Successful businesses operating in the healthcare industry are turning to iOS application development companies to improve businesses processes, facilitate communication, and increase top- and bottom-line revenues.
Medical iOS Enterprise Apps:
a Minefield of Opportunities
What is the value in creating, marketing, and distributing an iOS enterprise app or patient-oriented solution?
Imagine the ability to provide an educational walk-through that leads employees through a self-managed tutorial that results in a final certification stage. Technology can thereby empower employees and free up time for supervisors, who used to manage this type of process in the past.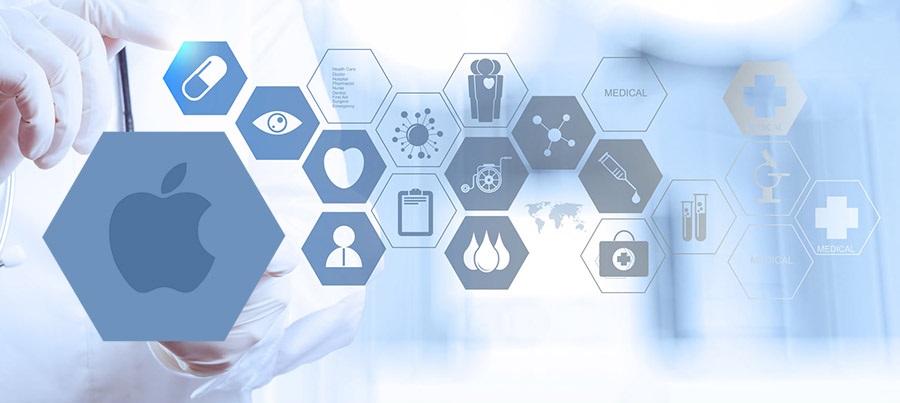 Information-driven apps can include step-by-step tutorials for patients whose care relies upon adherence to a healthcare organization's prescribed processes such as which exercises to perform, when to take medications, how to change a bandage, etc.
Consider that, using app technology, department managers and outside consultants alike can contribute to furthering your organization's mission, working remotely with an app.
All project stakeholders have the benefit of portable, secure, near-instant communication; and sometimes, even, collaboration.
Knowing Where to Start is the First Challenge
The task of starting your iOS software app development becomes easier once company leaders meet with their internal teams and customers alike, to identify current problematic issues or awkward workarounds that impede the efficient delivery of healthcare services, experiences and even products.
Think first. Sketch on a few napkins and whiteboards to create your story.
A next natural step is to identify, in writing, the current problem, and ideal "future state" in which blockages to smooth business operations have been eliminated. The whole process works better when you have done some initial legwork for your iOS application development.
Healthcare practitioners and their staffs frequently utilize multiple mobile devices. Integration with MEAP, or Mobile Enterprise Application Platform, should be considered when creating an iOS mobile app.
Zero (or, in some cases, nominal) additional fees are required to accommodate cross-platform usage. That is why it is critical to formulate the business logic prior to diving into design and engineering.
iOS Application Development Companies: Making the Right Choice
Next on agenda is the task of identifying the right fit among the myriad iOS application development companies operating today. Narrowing the field becomes easier by checking the presence of certain expertise, skillsets and experience:
Business Analytics & Design – All use cases and functionality the app will offer must be considered in UI for efficient UX

Engineering – Great mobile apps require a robust knowledge of an appropriate tech stack

System Integration – Integration of back-end data collection and storage; integration with third-party libraries and APIs

QA & Testing – unit testing, regression testing, usability testing, and stress testing

Successfully Deployed Projects – A portfolio of completed projects and clients' testimonials

Seasoned staff – A mixture of team members enables different views – and even the use of different development tools – for achieving best results
Velvetech's 20+ years of experience and 70+ team members have led to 100+ successfully delivered projects.
UX is Not Reserved for Consumer Apps
All business apps, at the end of the day, are used by people. Therefore, the better designed user experiences, the more likely your app will be selected in the first place, and used more frequently, once chosen.
The rule of thumb for great iOS application development is to understand the user's needs; and then design screen-flows and page-flows that correlate with expectations.
Use best mobile UI/UX development practices.
Choose font sizes and colors that can be easily read on small smartphone screens.
Create calls to action and functions that reward users with information, or results they're seeking.
Ensure that there are no dead ends, and navigation tools that are always easy to access.
Develop Mobile Apps, Quickly
Once you have identified the type of app that will benefit your constituent stakeholders, the lifecycle for configuring and developing should be rapid and efficient.
One way to develop native apps for Apple mobile devices, to which layers of integration with systems and databases can be added, is generally to begin with four elements:
Data Sources – ERP, CRM and other types of back-end databases and systems that can be interconnected

Data Objects – Configuration and management of data, including its display and operability within the app being created

Workbenches – An area in which data objects can be combined to create subsets of an app to enable a more flexible architecture

User Profiles – Control access to the components of the iOS mobile app
iOS App Development Checklist
We enjoy working with new clients, and love bringing our innovative app-oriented minds and engineering skills to the table. Our team follows an agile methodology for remaining flexible during the process of designing a viable app.
Below is a rough outline of steps we follow:
Identify your core value proposition

Assign a team of business analysts, designers, back-end and iOS developers, QA engineers and mobile testers

Define an appropriate technology stack

Create wireframes, a flow chart, and a clickable prototype

Develop UI/UX Design

Work out a project roadmap with sprints

Execute needed coding: iOS development, back-end

Integrate with third-party tools and solutions

Obtain critiques for iterative versions, as well as approvals

Quality Assurance: regression and unit testing

Navigate the submission and launch process via the App Store

Celebrate success!
13. The app has launched, and we've eaten all the cake from the celebration party.
Now What?
Having successfully accomplished the 12-step process (OK, "13-step" – a Baker's dozen) of creating and launching your app, what's left to do? Importantly, we provide affordable ongoing app maintenance and support services that cover: bug fixing, new features implementation, app optimization and updates.
In Conclusion
Though the process of ideating an iOS healthcare app and seeing it through to launch and maintenance may feel counterintuitive at times, your organization's brand value will grow, alongside (and due to) the efficiencies created.
Velvetech, as one of your choices among iOS application development companies is an excellent choice when it comes to experience, a proven process, and a dedicated team.
Get the conversation started!
Discover how Velvetech can help your project take off today.