Blockchain in healthcare is steadily getting traction with businesses as we watch the Bitcoin shake the world of finances. Thanks to Bitcoin and other cryptocurrencies that have been making the headlines recently, by now everybody knows what blockchain is.
Simply put, it's a new technology that has enough potential to revolutionize the IT world and just about every industry that relies heavily on IT – one chain at a time.
"The most popular connectivity strategy circulating among healthcare technologists, and even ONC*, is blockchain technology"

— Doug Brown, Managing Partner at Black Book
*The Office of the National Coordinator for Health Information Technology
Blockchain-in-Healthcare Hype
No wonder tech pioneers from various industries are searching high and low for ways to implement blockchain solutions into business operations. Health care is certainly one of these industries where blockchain implementation is a welcome change.
A recent survey by Black Book™ revealed that 19 percent of responding hospital executives and 76 percent of payers were either planning to deploy or were already implementing some blockchain systems.
According to an IBM Institute for Business Value's report, 56 percent out of 200 healthcare executives will have blockchains in production and at scale between 2018 and 2020. Some large-scale partnerships take place to research the benefits of blockchain in healthcare.
A good example is a joint initiative between FDA and IBM Watson Health that started in 2017 to leverage blockchain technology for improving public health.

Source: IBM Corporation
Pain Points in Health Care for Blockchain to Allay
Pain Point #1: Interoperability
Interoperability is a buzzword you hear a lot in discussions around ways for integration of blockchain applications into healthcare businesses. In 2015 The Office of the National Coordinator for Health Information Technology (ONC) issued a Shared Nationwide Interoperability Roadmap.
The roadmap spans from 2015 to 2025 and basically formulates the strategy for healthcare development during this decade. First and foremost, it focuses on efficient sharing of electronic health information between all major stakeholders, i.e. care providers, patients, regulators, etc.
The same report outlines the major challenges that lie in the data interoperability sphere:
Health information is not sufficiently standardized
Aligning payment incentives
Lack of trust between stakeholders
Misinterpretation and differences in existing privacy laws
Here is a great infographic that perfectly describes the issues health care is facing in data management.
Blockchain — being, in essence, a distributed ledger with data replication across a network of node computers — is a natural solution to this massive roadblock of siloed data in health care.
This technology can provide a new model for health information exchanges (HIE) by placing the patient at the center of the healthcare ecosystem.
Blockchain removes the needs for an HIE operator as an intermediary. All care providers participating in a blockchain will be able to share health records in a decentralized manner. Plus patient's data that gets onto the blockchain becomes immutable. This reduces data transaction costs and enables near real-time updates across the network to all parties.
Examples:

The brightest and most cited example of a real-life implementation of blockchain technology for optimizing healthcare records management is a project by Guardtime, a data-centric security company in Estonia.
Guardtime partnered with the Estonian eHealth Foundation to build a blockchain-powered secure health records management solution for processing EHRs for one million Estonian citizens.

One other interesting company approaching interoperability in health care is a startup Datastructr. Here's an infographic that explains how a blockchain-based EHR management solution can simplify this area of health care: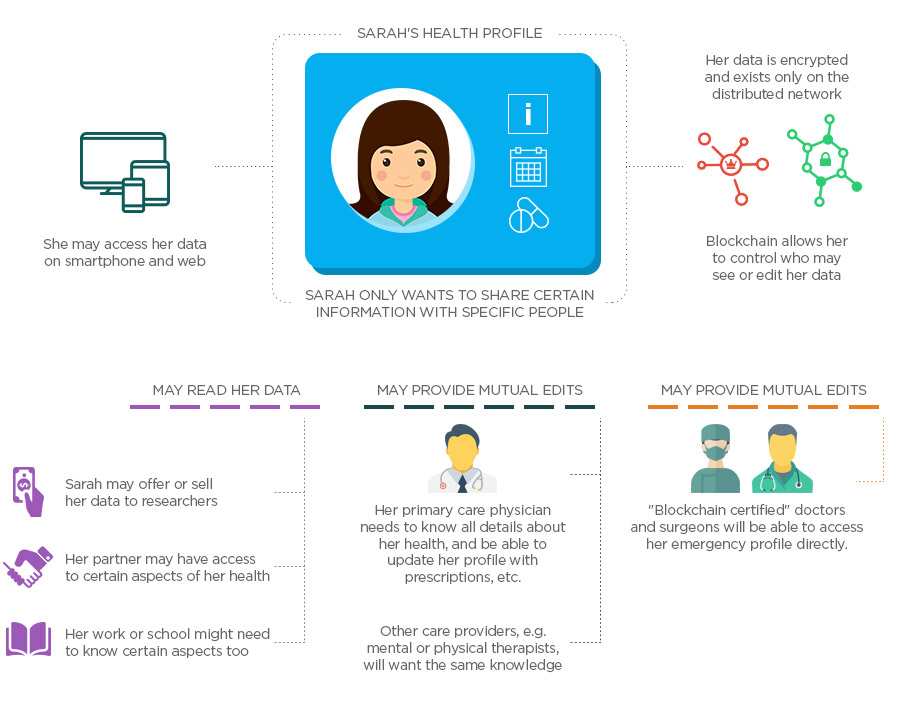 Source: Datastructr
Pain Point #2: Clinical Trial Management and Medical Research
Clinical trial management generates loads of data, which implies keeping accurate records by the administration to meet the regulatory requirements.
Blockchain tools, together with electronic data capture, can allow automatic aggregation, replication, and distribution of clinical data among researchers and practitioners.
"There are more than 8,000 healthcare publications each day. Nobody can keep up. We need a system to translate all the data into key insights that can be applied to a patient…"

— Kyu Rhee, Chief Health Officer at IBM
Benefits of blockchain in clinical trials:
Provide an immutable record of trial history
Eliminate data manipulation
Smart contracts can act as trusted administrators
Cryptographic validation of data by the network
Here's a great TED talk by Sile Lane on why clinical trials are such a huge issue right now:
Likewise, healthcare blockchain solutions can push medical innovations forwards by providing access to medical research data for all interested parties.
Pharmaceuticals invest a lot into finding patients that are willing to undergo a clinical study. At the same time, patients might be desperately searching for a new drug without much avail. Patients have minimal or no traceability of the types of research that could play a positive role in their health improvement.
Blockchain implementation can streamline this matching process between drug manufacturers and patients. It may also incentivize researchers and drug manufacturers to make research results available to the public.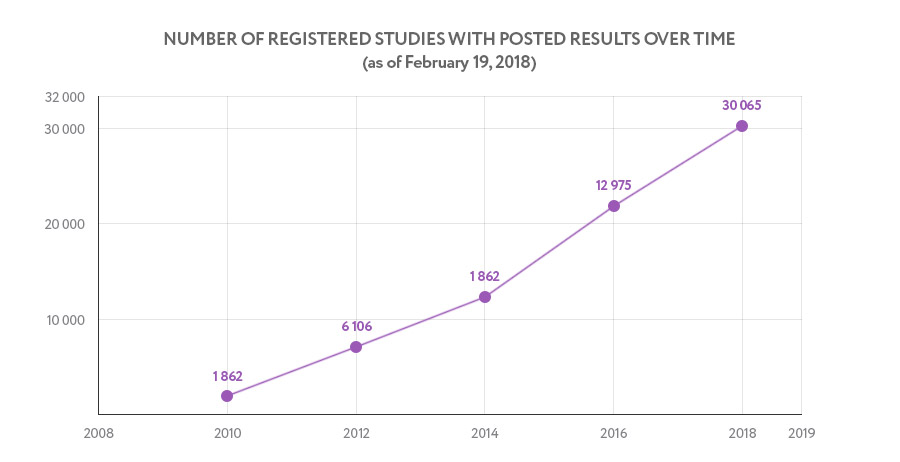 Source: ClinicalTrials.gov
Example:
E-Nome is an Australian company that has developed a patent-pending system based on blockchain technology that allows patients to control their med history on smartphones.
Patients can also anonymously share their data to participate and assist in medical research. In October 2017 E-Nome and The Garvan Institute of Medical Research signed a memorandum to enable the collection and management of research data across Garvan's six research divisions.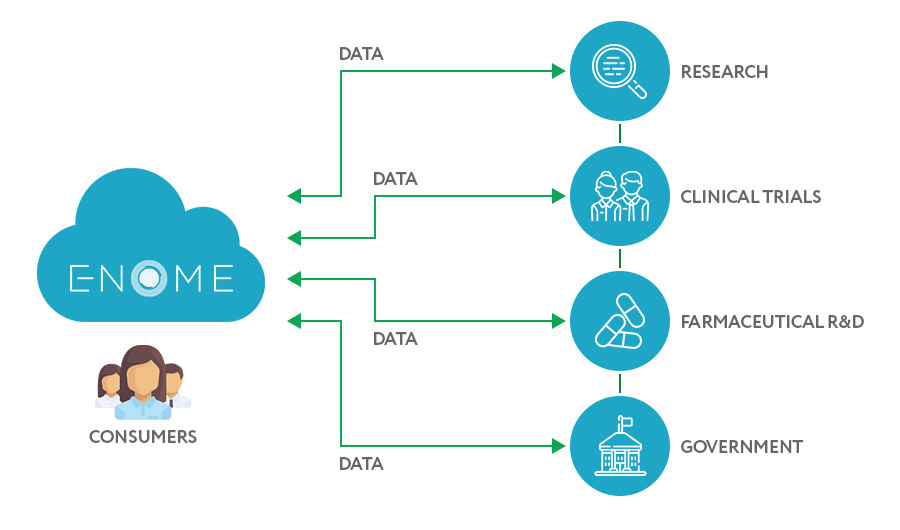 Pain Point #3. Pharmacy Supply Chain
Blockchain technology may prove indispensable for tracking drugs on their way from a pharmaceutical company to patients. Drugs become traceable as they move across the supply chain.
This could help reduce the counterfeit drug implications that currently cost pharmaceutical companies around $200 billion in losses annually.
"With an estimated global annual loss of $200 billion due to counterfeit drugs, pharmaceutical supply chain integrity may be one of the most relevant and demanding use-cases for blockchain."

— Tapan Mehta, Ph.D., Department of Health Services Administration
Industry experts single out 4 major use cases for implementing blockchain solutions into pharmacy supply chain infrastructure. Shahram Ebadollahi, Сhief Science Officer at IBM Watson Health, mentions the following use cases:
– Drug Quality and Security Act compliance and track-and-trace
All prescription drugs distributed in the United States should be trackable as required by the Drug Supply Chain Security Act.
– Controlled substance monitoring
The federal government is closely monitoring drug manufacturers for the occurrences of the illegal and out-of-pattern ordering of opioids and other Schedule II drugs.
– Cold Chain monitoring
According to FDA, USP-NF, EU GDP, and WHO guidelines supply chain should accommodate to specific temperature ranges throughout the delivery process. You can find more details about cold chain solutions development in our case study section.
– Active pharmaceutical ingredients
Blockchain will become crucial to controlling the source and provenance of pharmaceutical components from raw materials to actual drug manufacturing.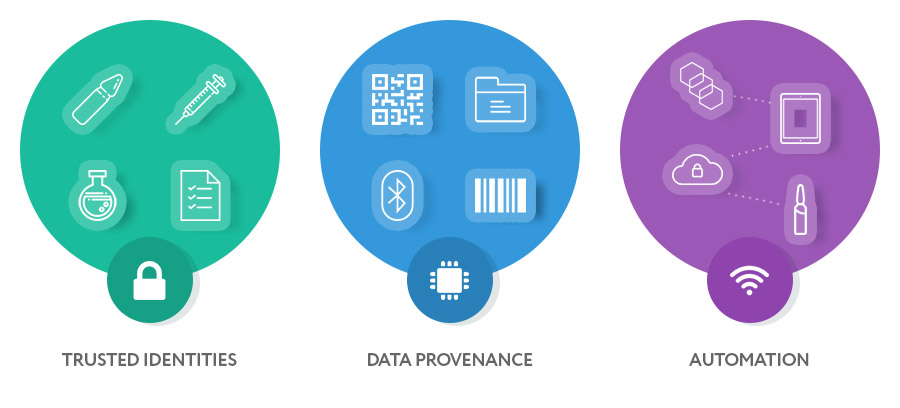 Examples:

iSolve is a US-based startup that has developed a permissioned blockchain solution for the pharmaceutical industry — BlockRx. The product provides traceability in drug supply chains. Its goal is to become a gateway for connecting independent systems, establish data provenance, and essentially organize a network of trading partners that facilitate the transfer of data.

Blockverify is a UK startup with a portfolio of anti-counterfeit solutions that simplify the verification of a drug's authenticity down to barcode scanning. The blockchain component stores the immutable record of all changes to product ownership.
Challenges for Blockchain eHealth Implementation
Blockchain technology is not a panacea. There are still many challenges that the healthcare industry needs to overcome to come up with a reliable blockchain-based all-encompassing solution.
Data Types
Blockchains cannot directly store abstract data types, e.g. X-ray or MRI images. This type of data would require a separate location for storage linked to a blockchain solution.
Besides, keeping these large chunks of data on the distributed network can significantly slow down transactions processing.
The data size and type constraints lead to the following issues that need to be tackled:
Data is not visible by default to all stakeholders; requires access to each healthcare organization's system for each patient's record.
Requires off-chain microservices implementation and additional integration layers.
Information on blockchain becomes prone to decay.
Security
While blockchain is a secure way to track changes in data as it replicates across the network, the same fact of data replication raises security concerns.
"5.6M Patient Records Breached in 2017"
The Breach Barometer Annual Report released by Protenus — a health data analytics company — describes health care in 2017 as a quite vulnerable to data breaches industry. The graph below indicates that hacking incidents were constant throughout the year with a total of 178 incidents in 2017 (37% of all 2017 breaches).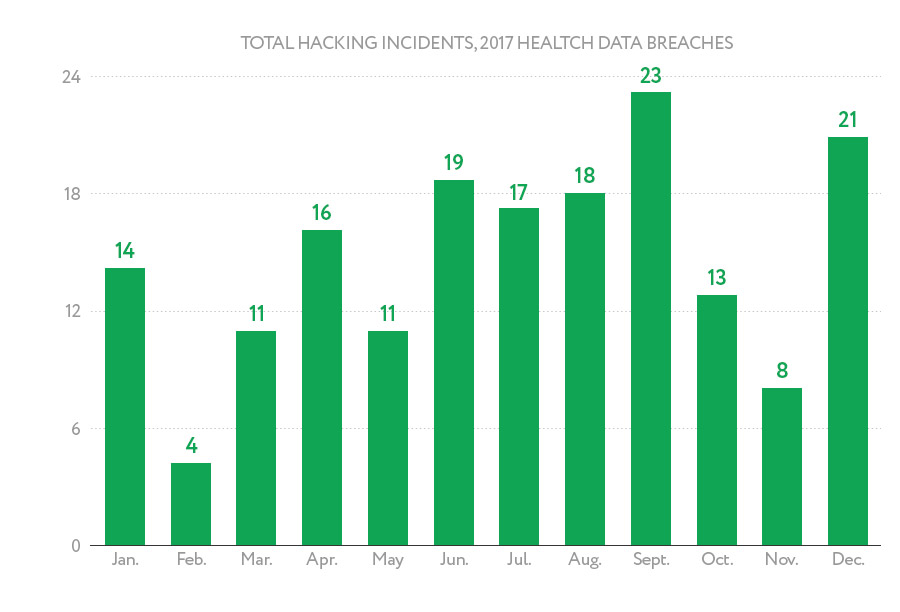 Companies seeking to deploy a blockchain-based eHealth solution should carefully consider what patient's data will be stored on the blockchain.
It goes without saying that non-patient identifiable information must be stored on all sides of the blockchain solution, while protected health information or personally identifiable information should be kept as a separate layer protected by the public/private key encryption scheme.
Drawing a Line
Blockchain in healthcare is rapidly progressing from the hype stage to proof-of-concepts and products. It takes both regulators' and technology enablers' efforts to achieve the standard of blockchain-based eHealth solutions that satisfy all participating parties.
Let us know if you have an idea for developing a blockchain-powered eHealth product. Velvetech will be happy to assist you with its expertise in the development of blockchain solutions for health care.
Get the conversation started!
Discover how Velvetech can help your project take off today.