Sometimes we forget how important our health is until we have a medical emergency. Something that seemed little yesterday, becomes a matter of life and death.
It is not surprising then how Deloitte's healthcare report states that global healthcare spending will reach $8.7 trillion by 2020. Money cannot replace good health.

Source: Deloitte
Healthcare organizations, however, need to keep up with the changing times to help patients improve their health.
One successful strategy is custom healthcare apps development.
Why is a Custom Healthcare Apps Development Strategy Important?
Reason 1: Mobile Adoption Rate
Over the past 8 years, according to Statista, smartphone usage in the U.S. grew from 62 million in 2010 to over 224 million smartphones in 2017.
This smartphone usage growth prompted 65% of healthcare organizations to come up with a documented mobile strategy, as revealed in a recent survey by clinical communications provider Spok. Six years ago, only 34% had a mobile strategy.

Reason 2: Increased Patient Engagement
By 2018, 65% of interactions with healthcare facilities will take place over mobile devices.
The ability to work with medical professionals remotely empowers consumers to search for the best care they can find.
Reason 3: Reduced Medicare Fraud
Custom healthcare apps development can cut into the $60 billion annually in Medicare fraud.
How? Digital apps give massive amounts of data for Medicare claims. The government can easily collect and analyze these transactions for irregularities.
Every mobile healthcare app becomes a data point to find more fraudulent claims.
Reason 4: 24/7 Hour Availability
Custom healthcare apps development removes repetitive communication and reporting.
A standard healthcare mobile app provides customers with 24/7 access to their records, doctor's messages, and other vital medical information.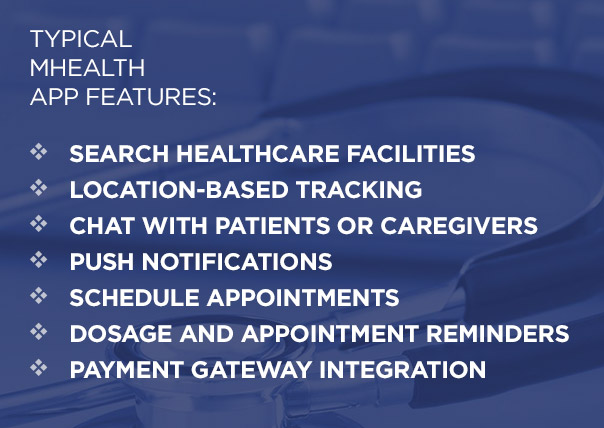 Reason 5: Healthcare Apps Reduce Hospital Management Costs
GSMA reported how this year healthcare mobility can reduce hospital costs by over $400 billion globally.
Hospitals save money on administration from the time savings of completing tasks remotely, faster reporting, and fewer clerical errors.
This money can then go to higher quality medicine and/or lower hospital bills. The lower costs come as many consumers have been hit with higher insurance premiums.
Three Tips for Custom Healthcare Apps Development
1. Understand Your Target Audience
For any mobile app to succeed, you must understand what your target audience wants.
For example, a big requirement from healthcare IT professionals was usability. Many will not even consider an app because the clinicians will not use the app for their healthcare needs.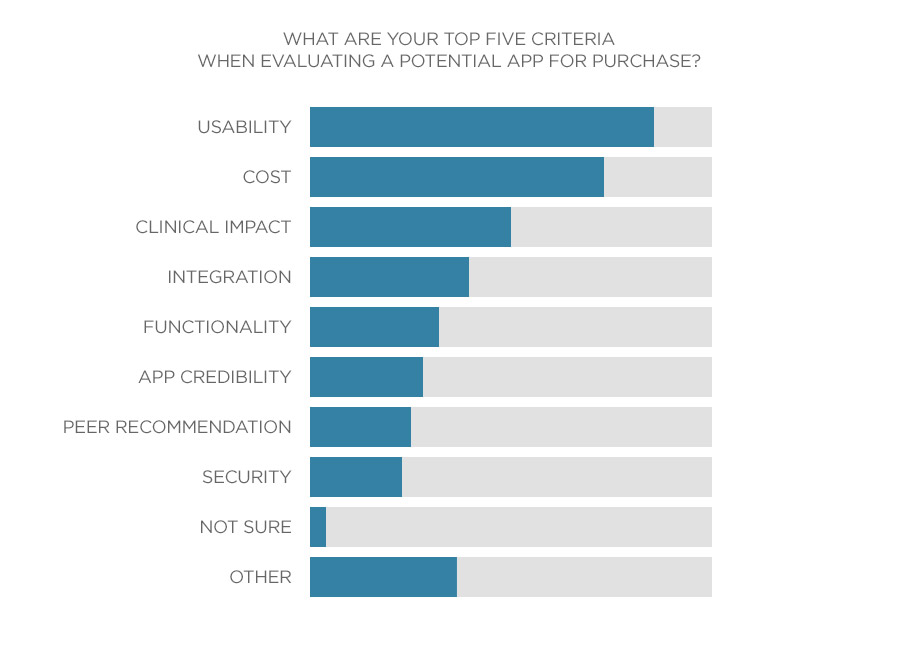 Source: KLAS
2. Focus on the essential features
An important part of custom healthcare app development is what features to include.
The growth of mobile and digital technology provides a wealth of options. However, sometimes the sheer number of choices becomes overwhelming.
Instead, we should focus on the features that benefit hospitals, patients, and staff the most.
According to the Healthcare Information and Management Systems Society (HIMSS), hospitals use various connected technologies, including telehealth and medical IoT solutions.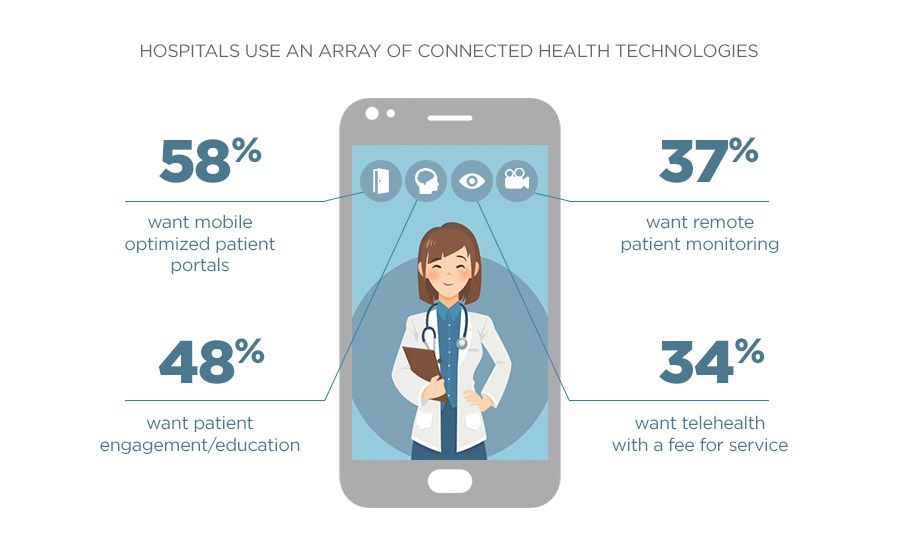 Source: HIMSS
Communication clearly plays a role in these features.
This brings up another point. 69% of respondents believe a secure hospital data exchange is key to follow HIPAA and other medical privacy laws.
3. What is your strategic approach
To help customers get the features they need on their healthcare app requires a strategic approach.
Velvetech strategic approach to development of patient care software helps healthcare organizations improve their operational efficiency and align with regulatory compliance.
Unfortunately, too many healthcare companies do not have mobile apps that answer a specific customer need.
In fact, only 11% of mobile apps on the market today meet the functions consumers want the most.
Our strategy is simple. We use an agile methodology, so we can quickly respond to your customer's ever-changing needs.
Bonus: Communication
We add one more component to our strategic mobile app development: communication.
At Velvetech, we mix our engineering skills with your ideas to bring your project to life. This happens when we collaborate on what the final design of your mobile app should look like, what architecture to use, what third-party services to integrate into the app, etc.
Final Thoughts
Discovering the best options for your custom healthcare apps development requires strategic thinking.
If you want a partner to share this responsibility, Velvetech, a custom software development company, is ready to help. Contact us for a free initial consultation today. Enter your information below to get the conversation started.
Get the conversation started!
Discover how Velvetech can help your project take off today.