Bpm'online was named a Strong Performer for its Digital Process Automation offering by independent research firm.
Bpm'online, a global business software company leading in the space of business process automation and CRM, is excited to announce that it has been recognized as a Strong Performer in The Forrester Wave™: Digital Process Automation for Wide Deployments, Q1 2019 by Forrester Research, a leading global research and advisory firm.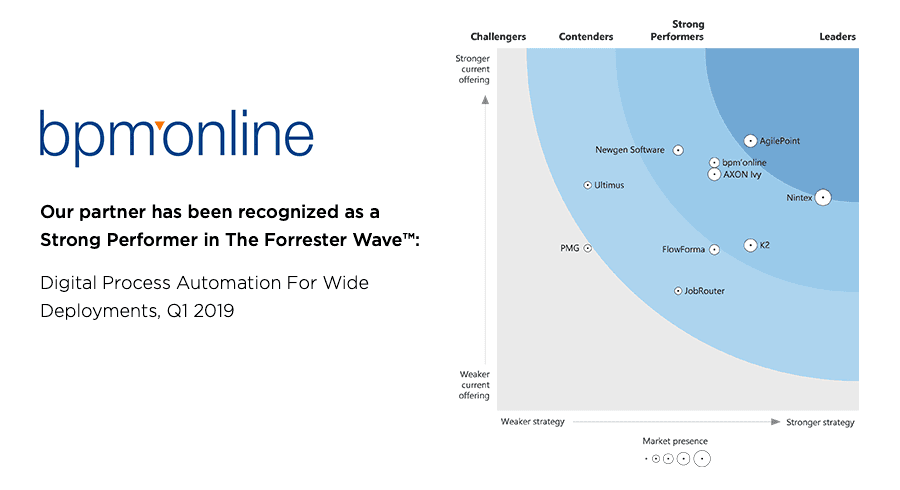 In 2019, process improvement plays a key role in digital transformation. As stated in the report, "customers demand strong support for complex process capabilities with low-code programming tools that pull businesspeople deeper into the development process."
The report also stathes that "The role of process in successful digital transformation continues to grow, and the sheer volume of software it takes to address the overall requirements for it is exploding. Process automation has emerged as a requirement for many organizations. The need is critical, and process professionals cite digital transformation as the primary goal of process initiatives over the next two years."
Forrester evaluated the vendors based on the 30 criteria that were grouped into three high-level categories: current offering, strategy and market presence. Forrester analysts selected 10 most significant vendors, who were included to The Forrester Wave™: Digital Process Automation report — and researched, analyzed, and scored them.
Download a complimentary copy of report
In its report, Forrester recommends DPA wide customers to look for providers that offer strong process and process orchestration capabilities. Forrester also suggests choosing vendors with low-code tools that support rapid development of hundreds of applications and provide the ability for IT to govern applications that are deployed quickly.
The evaluated bpm'online product is bpm'online studio – intelligent business process management and low-code platform with out-of-the-box solutions and templates.
Bpm'online studio features comprehensive low-code development capabilities for fast application development and delivery to enable enterprises become more agile and accelerate their business transformation while bridging the gap between business and IT. In addition to a powerful low-code BPM platform, users can also leverage bpm'online's award-winning sales, marketing, and service offerings – all on a single platform.
"We are extremely honored that bpm'online was recognized as one of the 10 most significant digital process automation (DPA) in such a prestigious evaluation. We are devotedly working on advancing our DPA solution to help organizations employ the "Everyone a Developer" concept, which is aimed at empowering more users without deep technical skills with low-code and no-code tools to build custom applications and processes, therefore enabling these organizations to erase the boundaries between business and IT." – commented Katherine Kostereva, CEO and Managing Partner at bpm'online.
Test drive the award-winning bpm'online studio >>
About bpm'online
Bpm'online is a global business software company leading in the space of business process automation and CRM. The company has been highly recognized as a market leader by key industry analysts. Its intelligent platform accelerates sales, marketing, service and operations for thousands of customers and hundreds of partners worldwide. The mission of bpm'online is to help companies ACCELERATE!
Velvetech and bpm'online partnership
Velvetech collaborates with bpm'online to deliver state-of-the-art solutions to its customers. Together we enable businesses to take complete advantage of the process-driven CRM. Our integration solutions help to enhance client experience, streamline business activities, and increase overall performance.