Our specialists promise excellence when it comes to conquering even the most complex software development challenges. But, we know our potential clients deserve more evidence than that.
That's why we point business buyers to our business profile on Clutch.co. It's a reviews, ratings, and research platform where they can explore our services by browsing detailed client feedback.
Looking through a collection of 14 reviews will reveal what it's like to collaborate with us. Each review covers the full scope of a project, including our project management skills and the timeline we followed.

Recently, we noticed a new review on the platform that offers detailed insight into how we work at Velvetech.
During the engagement, we built the Graphical User Interface (GUI) for an IoT device. Since then, we've continued to provide development support for the design client.
In the review, the director of software development noted our timeliness and adaptability.
"Velvetech beat our deadline despite some scope changes from our end client—an impressive feat."
– Director of Software Development, Design Service Provider
We've enjoyed tackling more challenges, such as setting up a Linux gateway, for the client. View a summary written by the objective Clutch team below.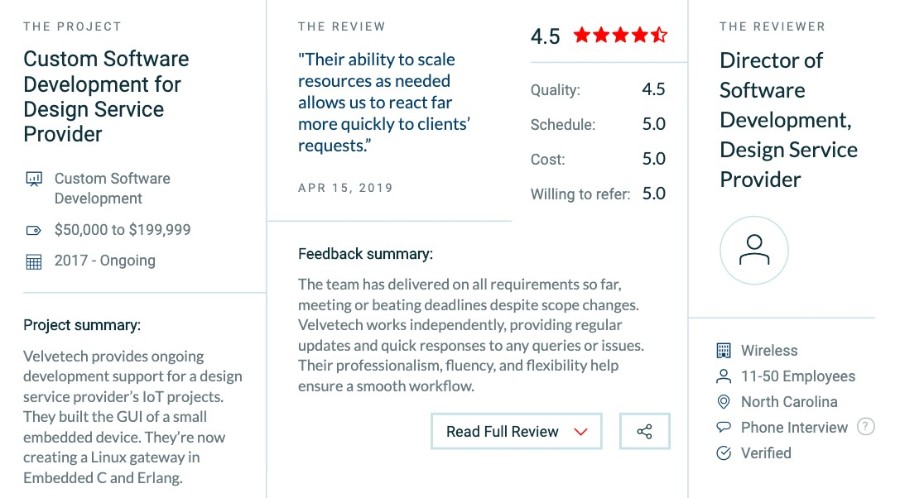 When you scroll through our other reviews on Clutch, several trends emerge. For example, it's clear that our specialists forge partnerships based on mutual understanding. The following quote is pulled from a collaboration where we designed an automation app for an executive search firm.
"Rather than simply ask us what we wanted, they quickly grasped the nuances of our business, offering their own experienced advice and ideas to optimize and enhance certain aspects."
– Principal, Executive Search Firm
As you can tell, reviews on Clutch are thorough. The Clutch team aims to provide an accurate, informative overview of the entire project. But, they offer another solution if you're only looking for a quick summary — it's called The Manifest!
The Manifest features notable former projects and key clients from top vendors in the B2B services marketplace. Visual Objects, Clutch's third website, displays project portfolios accompanied by company rankings.
We're thrilled with our high ratings on Clutch. It's a valuable resource for us and our potential clients.
If you've decided we might be a good fit for your next custom software project, get in touch with us via the phone, email, or our online form! We'll be glad to provide a free project consultation and estimate.
Get the conversation started!
Discover how Velvetech can help your project take off today.