Running a business is a high-stakes, demanding endeavor. Thus, it's no surprise that company leaders are constantly pressured to improve performance, reduce unnecessary costs, optimize processes, and boost the bottom line.
An area that is often prime for improvement is accounting. It's one of the most time-consuming and complex tasks within a business, typically requiring highly skilled and responsible individuals.
Yet, with the advances in modern technology, more and more companies are leveraging financial software development to transform accounting operations towards higher efficiency.
So, how exactly can this be done? That's what we are going to discuss in today's post. We'll dive into the subject of accounting software development, cover the main benefits it can bring, the key features your tool should possess, and how you can start building your solution.
Types of Accounting Software
First and foremost, we ought to cover the various types of accounting software that are out there.
While all accounting solutions are used to manage corporate finances, ensure accurate record keeping, and simplify recurring processes like invoicing and reconciliation, they do vary in complexity and functionality.
Typically, the accounting product you need will depend on the size of your organization and the need for scalability. For instance, many small businesses can function well with simple spreadsheets for accounting tasks. Yet, for larger companies, it won't suffice.
So, let's take a closer look at the two main types of software solutions you may want to consider.
Commercial Accounting Software
Commercial solutions are often used by mid-sized companies whose accountants are looking for an easier way to manage reports, access data, monitor cash flow, and handle other financial matters.
This type of a solution generally comes with features that can suit most companies and thus have little customization. However, they can of course get tailored and integrated with other systems to cater to the needs of each individual firm.
Naturally, once businesses become large enough that a universal product no longer suits their complex requirements, they tend to develop custom accounting software solutions.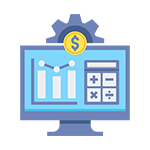 Enterprise Accounting Software
Big companies and those looking to scale their business often turn to enterprise accounting software. Typically, these are custom solutions that are able to process enormous amounts of information and are a part of corporate ERP systems.
Similar to commercial tools, this customized accounting software should have the ability to integrate with other programs your organization might be using for business intelligence, project planning, and workflow management. Often, this is discussed at the beginning of the development process so that the upcoming solution is built with all of the key considerations in mind from the get-go.
Accounting Software Benefits

Now that you can distinguish the different types of accounting software that are out there, it's time to talk about the benefits these solutions can bring to your organization. After all, it's worth knowing what you'll be gaining out of investing into a new digital program. Let's take a look.
Increased Efficiency
First and foremost, well carried out accounting software development will leave you with a solution that improves your firms' efficiency by automating the tasks accountants have to deal with on a daily basis.
Find out how Velvetech helped improve efficiencies by Integrating Accounting and CRM Software
Doing things by hand is very time-consuming and repetitive. Not to mention, when it comes to finance, it's labor that requires high levels of concentration and focus. With an accounting tool that automates data collection, processing, and reporting, everything becomes a lot easier and faster.
Human Error Prevention
Another major benefit of accounting software is that it helps reduce human errors. As previously mentioned, dealing with financial activities requires a lot of concentration and time. Thus, even the greatest specialists are prone to make mistakes in their calculations.
Since errors can be difficult to spot and eliminate, they often cause huge problems for companies. However, with well-developed accounting solutions, human mistakes will become less frequent.
Decreased Costs
Lastly, thanks to fewer mistakes and boosted efficiency, turning to accounting software development services may play a key role in cutting costs for your business. After all, you won't be spending time and money on mundane invoicing, reporting, or other financial tasks.
Thus, if you are thinking about putting off investing in a new solution, we do suggest you reconsider.
Key Features of Accounting Software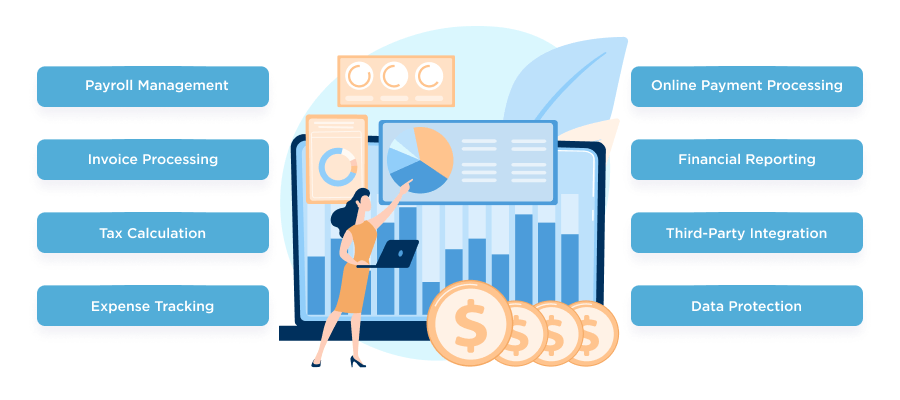 Pretty much all financial accounting software is built to perform various bookkeeping tasks and streamline the associated processes. Yet, you shouldn't assume that all solutions are created equal. Thus, we want to discuss some must-have accounting software features that you should look out for when building your tool.
Payroll Management
One of the primary features of any accounting solution is payroll processing. After all, every company has employees whose salaries need to be managed.
With this function, your accountants will start by simply inputting the required information like wages and hours worked for each employee into the system. Then, the program will take the mundane tasks off of their hands and perform the necessary salary calculations, deduct withholdings, and simplify the process of employment tax filing.
Invoice Processing
Another frequent task accountants have to handle is the processing of invoices. Yet, if you choose to build a software solution to help them, your specialists will no longer need to spend hours on this type of work.
Instead, your brand new platform will automate accounts receivable, invoicing, accounts payable workflows, and help maintain the general ledger.
Tax Calculation
As you may recall, accounting software helps reduce human errors and one of the areas where mistakes can lead to significant repercussions is taxes.
So, when building an all-encompassing solution, ensure that it has the capacity to calculate all the necessary tax payments after each period. Your accountants will undoubtedly thank you for it as it'll save them some valuable time.
Expense Tracking
In the long run, a business cannot prosper without a proper control over its expenses. Thus, your accounting software should help keep track of employee-initiated expenses, regular payments, and other costs that might rack up during a time period.
Overall, with the aid of this function, your business should gain the ability to simplify and automate expense entries, streamline review processes, and get rid of the unnecessary administrative paperwork.
Additionally, if your web-based accounting software solution is also available on mobile devices, you'll enable employees to input expenses on the go, thus further optimizing the cost management process.
Discover our Ultimate Guide on How to Build a Mobile App
Online Payment Processing
Digital payments are becoming increasingly more popular in the modern world, especially after the pandemic has spurred an enormous transition towards online activities. In fact, the share of customers using two or more digital payment methods has grown from 45% in 2019 to 58% in 2020.
So, when you set out to build accounting software for your business, consider implementing an online payment processing feature into the solution. That way, you'll be able to process electronic payments and enable customers to pay from their bank accounts.
Financial Reporting
Typically, accountants have to create monthly, quarterly, and annual reports. As you may know, it's a highly necessary but repetitive and time-consuming process. Once again, accounting software with report generation features can come to the rescue.
Medium-sized businesses and large organizations often turn to automating the process of report creation by embracing software that quickly draws up the necessary documents and allows for faster editing. So, don't forget to include this function into the list of requirements to show the development team.
Learn How to Explain Your Business Idea to the Development Team
Third-Party Integration
Before you embark on your accounting software development process it's worth thinking how the new solution will fit into your entire IT system. After all, you probably rely on multiple programs like CRMs, content management or e-commerce platforms, and other tools to run your business.
Find out how a CRM Integration With an Accounting Tool Boosted Productivity
Thus, software for finance and accounting should have the ability to integrate with the relevant systems in order to simplify the entire workflow and ensure smooth operations.
Data Protection
Lastly, security is of utmost importance for any kind of software, but especially that which deals with financial, highly sensitive data.
So, consider creating multiple levels of security so that you can separate users who have different clearances and prevent too many employees from having access to confidential information.
Additionally, if you want to take things a step further, look into adding blockchain technology into your accounting software. That way, you'll be able to rest easily knowing that your business' financial data is highly protected.
Discover Why Blockchain in Finance is The Next Big Thing
How to Approach Accounting Software Development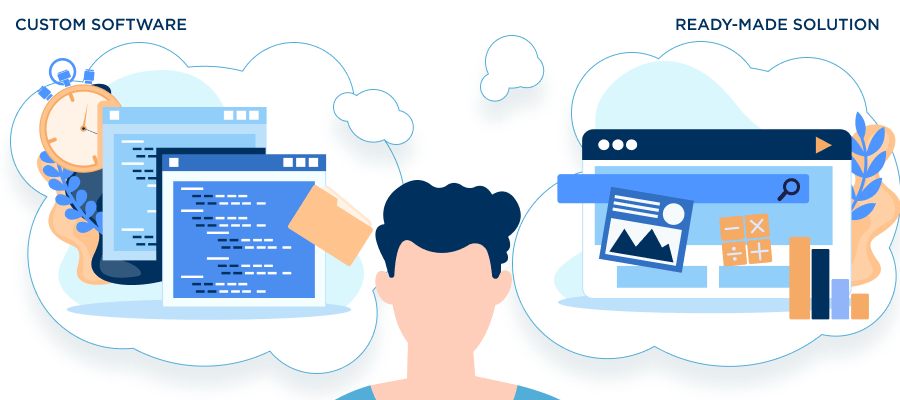 Now that we are all on the same page about what accounting software entails, it's time to dive into the subject of how you can actually acquire the solution that best suits your needs.
Truth be told, there are two options for you to choose from, each with its own pros and cons. So, let's take a closer look at each one of them.
Purchase a Ready-Made Solution
One of the routes to getting an accounting tool for your business is simply purchasing an off-the-shelf solution. These types of products are built to cater to the needs of the majority and usually provide the most common features one might look for in accounting software.
Often, ready-made accounting software programs can be slightly customized to the unique requirements of each organization or integrated with existing software for additional functionality.
Benefits of out-of-the-box software:
Immediate implementation
Low initial costs
Access to updates
Drawbacks of out-of-the-box software:
Having to pay for unnecessary features
Lack of unique functions your business requires
Incompatibility with existing software
Develop Custom Accounting Software
An alternative to a ready-made solution is developing your own custom accounting software. Essentially, that means either working with in-house developers or outsourcing to a skilled vendor and creating your own tool from scratch.
Advantages of custom accounting solutions:
Tailored to your unique business needs
Cost-effective in the long run
Opportunities for scalability
Exclusive ownership
Disadvantages of customized accounting software:
Higher upfront costs
Longer implementation time
Need for maintenance
As you can see, there are quite a few things to consider when asking yourself how to build a custom accounting software. Of course, everything depends on your unique business needs, which is why we suggest taking some time to truly think about your long-term strategy before committing to any one approach.
Building Effective Accounting Software
Accounting software development is becoming a must for businesses of all sizes and across all kinds of industries. After all, every organization wants to boost efficiencies and minimize risks. Yet, not all programs are created equal and it's essential to know which features are of most value to you.
So, if you're looking for an accounting software development company to help get your project off the ground — don't hesitate to reach out. At Velvetech, we understand the importance of accurately and effectively managing your company's finances. Thus, we are ready to leverage our expertise in custom financial software development services and discuss a potential collaboration.
Get the conversation started!
Discover how Velvetech can help your project take off today.