Outsourcing software development projects has been a mainstream phenomenon in the IT business since most companies started breaking away from legacy software and taking advantage of modern technologies to successfully run their business.
Despite that fact, software outsourcing is still an area where project owners get flawed. Challenges arise in the pursuit of finding not just a skillful software development team, but an agency or vendor that has the required experience and can deliver on time.
"In 2021, spending on IT services is expected to amount over one trillion U.S. dollars worldwide, an increase of 4.1 percent from the previous year."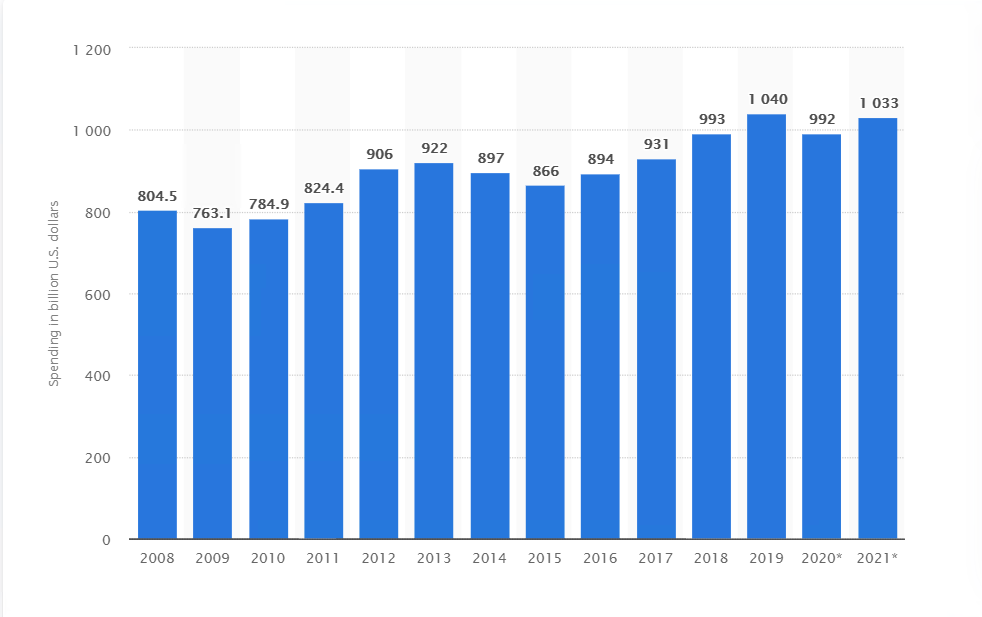 Source: Statista
Outsourcing software projects is a common trend for any business. It is a very frequent activity for companies looking for digital solutions for their business process automation and service delivery. However, even startups and regular IT firms outsource, either to shed workload or to meet up with deadlines.
What Is Software Development Outsourcing?
Software development outsourcing can be described as a process of partnering with an external software development vendor to carry out a project or a part of it. Outsourcing software development services is efficient for companies that lack in-house resources or expertise.
Other common reasons to hire an IT solutions provider can be limited development budget and timeline, absence of certain tools and licenses for project implementation, or insufficient risk and project management experience.
The advantages of outsourcing software development include increased efficiency, time and cost control, mitigated project risks, and enhanced product security.
What Are the Types of Outsourcing?
When you choose a software outsourcing company, it is good to know that there are several options for how you can do it. Outsourcing can be broadly divided into three main categories, depending on the location of a development vendor.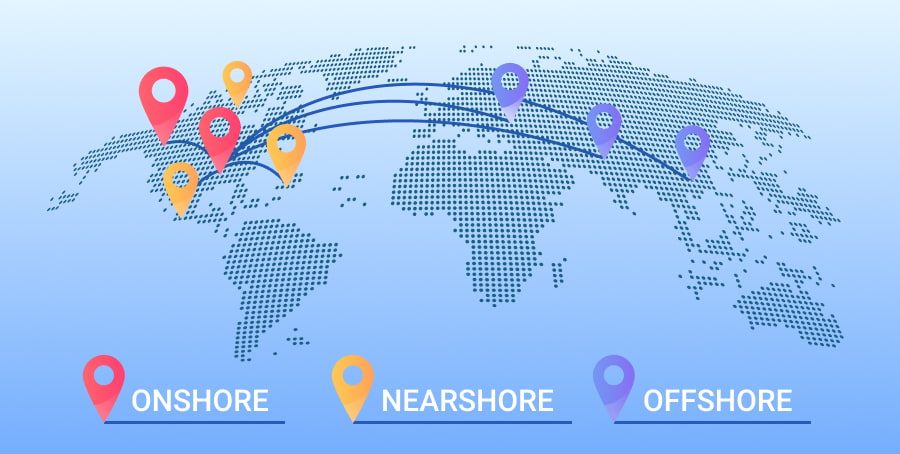 Onshore Outsourcing
This option suggests that you hand your IT project over to a different company that is situated within your national borders. An example of onshore outsourcing is hiring a software development company based in Chicago, while the location of your business is in Seattle.
Another term for this type of outsourcing is homeshoring. It offers such benefits as accessibility, cultural and language similarities, and ease of control. On the other hand, onshore is often more expensive than other forms of outsourcing.
Nearshore Outsourcing
When opting for a nearshore form of outsourcing, you delegate IT functions to a company outside your country but still nearby its borders. In this case, a company out of the US can partner with a company from Mexico or Canada.
Similar to the previous type, nearshore software outsourcing provides you with smooth communications as, most likely, you'll be in the same time zone. On top of that, hiring a trusted partner from a neighboring country may lead to some essential cost savings.
Offshore Outsourcing
There's a wide range of software development outsourcing companies out in the world. It makes it possible that, for example, a US-based company can choose to outsource IT services to a distant location like Ukraine, Russia, or China. That's called offshoring.
The advantages that come with this form of outsourcing are low labor and operational costs. Additionally, the time difference can provide value for those involved in continuous tech and customer support or maintenance work.
Why Outsource Software Development
Why is outsourcing software development to a third-party vendor so popular?
To keep it simple, outsourcing some parts of a software project or the entire work enables businesses to reduce software development costs. In addition to that, it allows project stakeholders to pace up and follow through with their primary business challenges.
Another plus is that it helps your software product hit the market in a short time without getting overwhelmed.
Are you a project owner or product manager? Below is a list of pitfalls that you should look out for when searching for a vendor. It is a perfect guide if you want your project outsourcing to be successful and worthwhile.
1. Choosing The Vendor Without Any Market Research And Reference Check

Firstly, don't make the mistake of not investigating the market before you dive into a software development project. By doing this, you will know what's obtainable for your project type. In detail, you should know how the outsourcing market works.
Do more than just sharing your idea and requesting a quote. Furthermore, have some insight into the leading vendors and agencies that offer the service you need. It is also vital to look out for additional factors such as distance, time zone, language, and culture barriers.
Secondly, before you decide on a software vendor to partner with you, reevaluate your requirements to make them coincide perfectly with your goals. Have it in mind, your choice of software developer must offer the exact service that you need. They must also have experience in similar projects to yours.
Lastly, your choice should be based more on related track record other than the workforce. Hence, make sure you get good references from credible and reliable sources like clutch.co, goodfirms.co, and others. You should try to speak to past clients, get feedback, check for company portfolios, and public reviews.
2. Improper Understanding of the Project Cost

One of the major reasons for outsourcing is to save software production costs. Although this is true, it can jeopardize your project if not well handled. In most cases, the inexperienced developers charge cheaper rates. Here is the golden rule:
Search for development teams based on talent, and always put experience over lower cost.
Beware of not having a responsible budget plan. A simple analysis shows that:
A software developer that costs $50 an hour and can complete his task in 4 months is better than a developer that charges $35 but takes about a year to deliver.
Click To Tweet
It is advisable to avoid too cheap software development agencies and vendors. The consequence is that you may risk poor quality or total failure of your project. For this reason, it is good to opt for the milestone payment system.
To close this point, ensure that the proposal you get from your prospective development partner highlights a breakdown of the cost in a standard and official manner. Moreover, don't forget to work out details like taxes, applicable duties, or third-party charges to the transactions with your software vendor. It will help you to prevent additional or unnecessary cost from the beginning.
3. Poor Knowledge of Contracts, Privacy Law, and Legal Implications

First things first, get a lawyer. Ensure that you sign a nondisclosure agreement to protect your idea before you reveal the details of the project. Make sure you do this even if your goal is just to get a price quote. The repercussion of not doing this is that someone else could be laughing to the bank, cashing in on your idea. You should protect your intellectual property.
Privacy is the next. At this point, consider the IT laws governing the legal systems of your country and that of your vendor. You don't want to start a project that gets shutdown halfway or never gets completed due to government regulation. It is always good to know what is attainable and what is not.
As a project owner, you must try to avoid being a victim of software piracy. Hence, make good efforts to ensure that your vendor does not use any proprietary in-house tools belonging to other clients' projects without authorization.
The reason is that it may become an issue when it comes to owning full intellectual property rights. In like manner, make sure your contract has a special clause that states that you own the copyright of the software project after completion.
4. No Technical Personnel From Your Side

Whatever your reason for outsourcing software development, you are still going to be a decision-maker and the main stakeholder of the project. Therefore, a lot depends on you. You have to weigh if the technical skills you are paying for are well balanced against your business goals.
If your initial reason for outsourcing is the total absence of a software development team, and you lack a sound knowledge of IT, then you need a "technical guy".
This tech-savvy person will be your advisor. Advantageously, he will monitor the project better, seeing through those technical details that seem foggy to you. Majorly, he will scrutinize the quality of service and product when you are not able to do that. On the other hand, there will be no need for such a person if you are working with a trusted partner.
5. Short-term Partnership
To look for a short-term partnership sometimes has its flaws. Usually, such software development projects lack enough time for execution and sometimes budget. In the end, it is a recipe for disaster.
Signing a short-term contract makes your software project liable to be done hastily, with the aim of delivering it fast. The danger here is the omission of important development details or an improper view of your business goals.
As a result, you might risk having software of poor quality. Besides that, such projects end as a one-off rather than a lasting business relationship.
Remember, it is advisable to look for a long-term partnership for outsourcing any type of software development project that might arise. You tend to win by building a lasting relationship alongside the software. Besides, a warm relationship is good for business and partnership. It strengthens commitments and agreements.
6. Don't Demoralize your Team, Encourage Them

Give kudos and credits as at when due, don't wait till the end of the software project to complement your development team. Praise them when they complete sprints successfully, it will boost their efforts subsequently.
Make the development team feel appreciated even though you pay them. Outsourcing your project makes them indirectly work for you, and they deserve the same treatment as your in-house developers. The cycle of software development has its challenges. It is only fair if you help the developers keep a high moral always.
Getting on With Outsourcing Software Development Project
To sum up, avoid all the pitfalls of outsourcing software development by choosing a vendor that most suits your requirements. Also, try to prevent software project delays when the project kicks off.
Always look at the bigger picture. The software market is dynamic, and users want the utmost satisfaction. Outsourcing provides the means to meet up with demands for software creation and updating it. Notably, it is the reason why it's not a one-off project but rather a recurring long-term process.
Your option of a software vendor or agency requires a lot of deliberation and careful choice. A good vendor should see your line of vision and be willing to help you achieve it. Therefore, it is better to go for trustworthy partners.
Velvetech provides custom software development services that cover a vast range of business needs. Our partners and clients are business owners from different private sectors. We have shown a strong capacity in IT consulting and delivered as a trusted software development vendor.
Our specialists would be glad to discuss your software development challenges and come up with the most suitable solution designed for your business needs. Contact us today for a consultation.
Get the conversation started!
Discover how Velvetech can help your project take off today.