Your app's position in the App Store and Google Play is affected by several factors, and the number one factor is app downloads and engagement.
Downloads are self-evident metrics, but engagement is a mixture of the number of daily and monthly active users: how often each customer opens the app on a monthly basis, along with the amount of time they spend in the app.
Engagement largely depends on the features of your app: useful features that get users through their day lead to better engagement. Downloads, on the other hand, hinge on the visibility of your app to customers. Both elements of your app's success require effort and investments.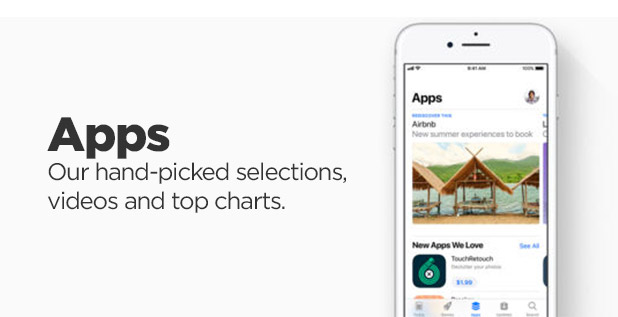 One could say that the app market today favors the law of the jungle where the fittest survives: big-name app developers with impressive marketing budgets seem to get more media coverage. On the other side of that, we have indie developers who have to find ways around to get any attention at all, regardless of how good their apps are.
App store optimization (ASO) is the ultimate solution that can fill the gap between the extremes of the today's app market.
Click To Tweet
ASO techniques take into account such things as the app's name, icon, screenshots, videos, etc. The app metadata along with keywords will play a vital role in your app's rankings in Apple's App Store and Google Play.
Let's look at some of the App store optimization tools available for app developers. And while they don't guarantee you instant success and the number one spot in app stores, using these tools will help you make your app more visible to users.
What is App Store Optimization?
Before we jump into this though, let's briefly recap what app store optimization is, really. Wikipedia defines the term as the process of improving the visibility of a mobile app in an app store.
So basically any activity that makes your app appear higher in the search results in App Store or in Google Play is ASO or App Store Optimization. Or plain and simple — SEO for mobile apps / App Store SEO. ASO tools teach you how to do SEO for an app.
Types of ASO Tools
There are around 30-40 ASO tools available on the market (February, 2020) today. And so deciding which one to use for app search optimization may easily become a nightmare.
We'll group these ASO tools for you by type and then will take a closer look at the most popular ones.
ASO Tools — comprehensive app intelligence suites
ASO tools that come with a most complete set of options can usually help you take care of any ASO task: from keyword optimization to competitive analysis and user reviews overview.

ASO Tools for app keyword optimization
As the name suggests, these ASO tools focus solely on keyword optimization, showing apps that rank for a given keyword. Their features include app keyword suggestions and tracking.

ASO Tools for user review analysis
Working with user reviews is another crucial aspect of app marketing. ASO tools that focus on user reviews and app rating offer analysis of what users struggle with in the app and where you could improve.

ASO Tools for A/B Testing
Mobile app optimization tools that allow you to A/B test your app product page variations will help you choose the single best-performing landing app page that converts to downloads.

ASO Tools for search ads optimization
To run ad campaigns on Apple Search Ads you may want to get the scoop on what your competitors are doing. Such insights will help you.
Top 20 ASO Tools 2020
Check out these top performing ASO tools available as of 2020:
Appfigures
SensorTower
PreApps
AppTweak
AppTopia
Keyword Tool
SearchAdsHQ
App Annie
Moburst
Tune
TheTool
PrioriData
Apptentive
StoreMaven
AppCodes
App Radar
SearchMan
SplitMetrics
RankMyApp
Appbot
Let's review some of these ASO tools that may amplify your app store optimization efforts.
1. App Annie — ASO App Store / Google Play Intelligence Tool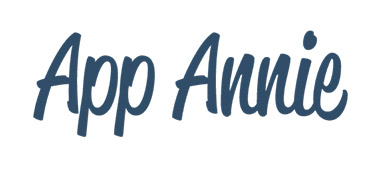 App Annie is probably the best-known app market analyzing platform that serves the most trusted app data and insights for you to succeed in the global app economy. Over 1,000,000 registered users use App Annie's statistics and research to make informed decisions in the app market, grow their businesses and outsmart the competition.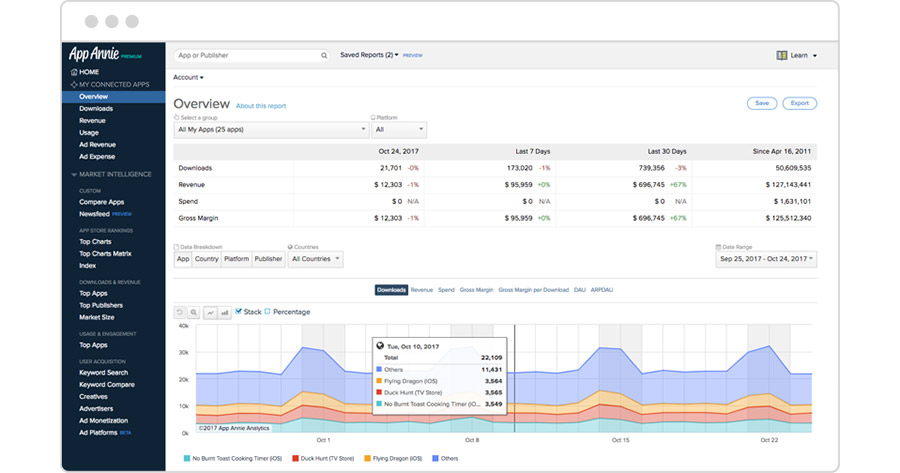 Key features:
Market Data Intelligence
This high-end product offers you revealing insights into the demographics of your app's users and how they interact with the app. The key data points include stats on user retention, downloads, and competitors' performance.
App Analytics
A free solution for tracking the basics of your app's performance, e.g., usage, downloads, revenue, and spend across App Store and Google Play.
Mobile Store Statistics
A free product for minimal ASO, providing such market data metrics historical rankings, ratings, user reviews, and keywords for any app across the globe.
Price:
Market Data Intelligence is a paid product with individual pricing options available upon request. App owners can also resort to App Analytics and Advertising Analytics with Store Stats that are free.
2. Sensor Tower — ASO App Keyword Optimization Tool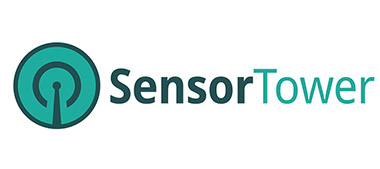 Sensor Tower is a powerful platform that mobile app market leaders rely on for vital data-driven competitive insights and understanding of the global app economy. The company's solution provides enough features to increase app downloads through app store optimization.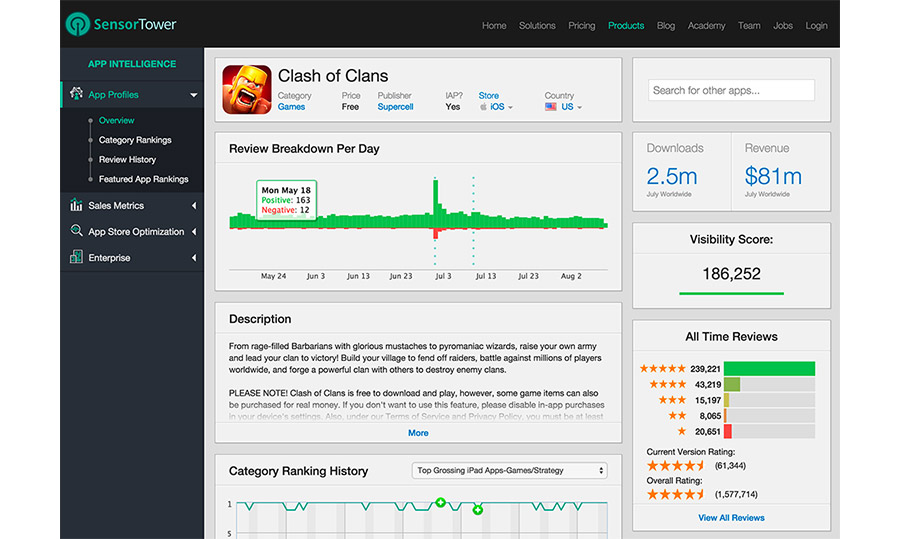 Key features:
App Intelligence
Similar to its other products, Sensor Tower's App Intelligence combines many tools in itself. Built around ASO, the solution enables you to analyze user reviews, the results of being a "featured" app, daily sales and app usage analytics, category and keyword ranking, detailed analysis on the competition, etc.
Store Intelligence
The Store Intelligence platform provides data on app downloads and revenues, with estimates for both available across several categories, types of devices, and countries.
Ad Intelligence
This tool becomes useful when you want to uncover statistics about user acquisition campaigns run by other publishers and app developers. The overview that the platform provides lets you see top advertisers and publishers for each week. On top of that, you can see if the increase in ad budgets affected the number of downloads.
Top Charts
The basic version of Sensor Tower's platform — it's free and shows top-performing apps across different categories and countries. Top Chart also displays the apps that have got the most ratings and have been recently updated.
Price:
Top Charts and Leaders are free and go with all Sensor Tower paid tiers. App Intelligence starts at $79 per month, which makes it a killer product for small businesses.
3. App Figures — ASO App Rating & Review Analysis Tool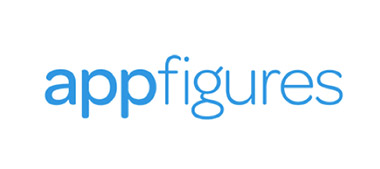 App Figures is a mobile app tracking platform of choice for top app developers. From indie devs and small studios to giant app publishers, appFigures can automatically connect to everything that matters for your apps and turns your app data into powerful, easy to understand reports for your entire app portfolio.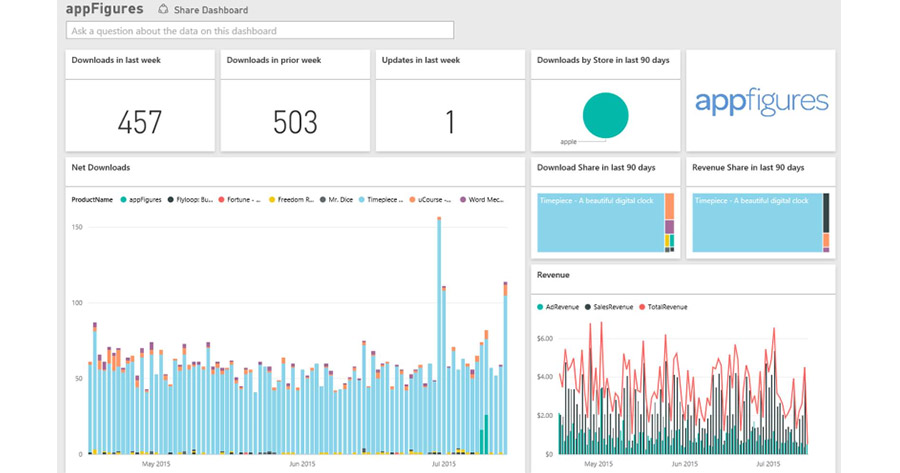 AppFigures is an all-inclusive reporting system that integrates with App Store and Google Play, mobile ad networks, and in-app analytics providers. AppFigures provides the following reports.
Key offerings:
Downloads and Sales
Track sales, downloads, and in-app purchases.
Reviews
Get notifications via Slack or email when someone posts a review on your app.
Rankings
Your app's rankings are updated hourly and compared to competitors.
App Usage
Track sessions, active users, bug reports, and other usage data.
Monetization
Monitor ads in your app and revenue across different ad networks, apps, and countries.
Top Charts
Know the top-performing apps in any category.
The reports by appFigures are customizable and can be integrated with other dashboards, and exported to various data formats.
Price:
The platform features a free plan with limited functionality. Premium service with access to all features starts at $4.99 per month, and there is a 14-day trial available.
4. SplitMetrics — ASO A/B Testing Tool

SplitMetrics is an advanced ASO App A/B testing tool trusted by such brands as Rovio and Reddit. This platform allows you to A/B test your App Store and Google Play app pages and discover the content elements that get you conversions.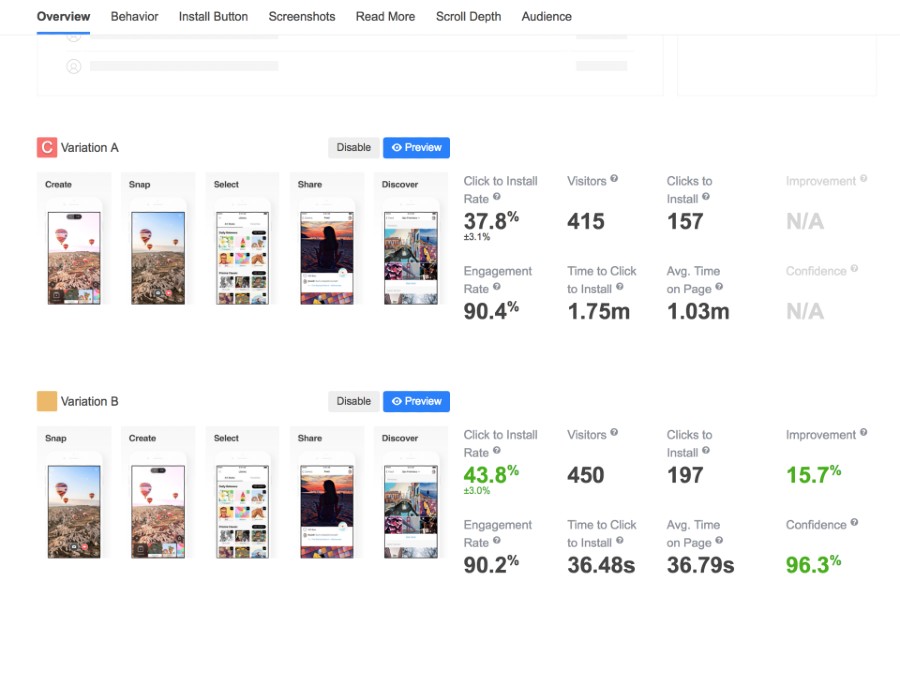 Key features:
App page audit
Сomprehensive app page audit that helps you pinpoint the bottlenecks and growth areas.
Test webpages
Optimize your app page with a test web page before going live.
30+ experiment types
Test all elements of your app page, search ads, and category.
User behavior analytics
See how users interact with your app description, screenshots, video, etc.
API & 3rd-party integrations
Integrate with your marketing tools for a stronger ASO effect.
5. SearchAdsHQ — Search Ads Optimization Tool

SearchAdsHQ lets you optimize Apple Search ads for purchases and in-app conversions. It's a perfect ASO app store tool, built for marketers and user acquisition teams.
Key features:
Integration with MMPs (mobile measurement partners)
See a user's path from an ad to the desired in-app action.
Automation rules
Automate manual tasks and focus on scaling your campaigns instead.
Keyword planner
Discover new keywords list with relevant keywords and see their potential performance.
Bulk management
Manage campaigns, switch bids and ad settings in bulk.
Best Free Mobile App Optimization Tools 2020
Let's take a look at some of the best free ASO tools 2020 has to offer. As you might imagine, finding a 100% free ASO tool is a tiresome task. But we've managed to uncover a couple of variants for you.
Mobile Action
Mobile Action provides app market intelligence and ASO keyword analysis. The free option of this ASO tool allows tracking 5 keywords on the App Store and Google Play. They also offer app analytics and a competition analysis. In addition, Mobile Action explains how you can improve your app rankings. And all of that is free.
SearchMan
SearchMan provides free access to app market research. The tool has data for over 4 million apps (iOS and Android) and almost two million keywords. With SearchMan, you can check your app's visibility, track its rankings, analyze competitors, and learn if your app is easy to discover.
Conclusion
As you may have noticed pushing your app for a higher ranking takes a lot of analytical wits. Whether you only want to measure your app's performance against the competition, or whether you go deeper by reviewing how different images affects downloads, you will be impressed with the benefits that these app store optimization tools offer.
Get the conversation started!
Discover how Velvetech can help your project take off today.