Project: CRM implementation
Duration: 3 weeks
Technologies: Creatio, WordPress plugins
Target audience: sales managers, CMO
Callpop is an IoT healthcare startup that integrates phone systems with practice management solutions. The goal is to provide the dental industry and other medical practices with everything they need to know about their patients or customers before answering the phone.
THE CASE
Callpop desperately needed to improve its lead generation process that was 100% manual and basically resided in an Excel spreadsheet. The company ran several marketing campaigns with separate landing pages, and struggled with processing and attributing leads to an appropriate source.
Challenge
After a short discovery session, it was decided to implement a low-code CRM Creatio that would gather all leads and customer data. In addition, the new CRM would equip CallPop's sales force with all the necessary process management tools to go through the whole sales cycle right inside CRM.
Process
Callpop was very particular about the features the CRM software had to provide:
Manage lead workflows
Simplify account management
Generate leads from landing pages
Allow for business rules customization with zero coding
Offer web APIs to integrate with third-party solutions
Being a trusted implementation partner of Creatio, Velvetech immediately knew that the low-code platform was the perfect candidate for this project. It's an all-in-one solution that could help with automating the company's business processes, support sales and marketing efforts, and accelerate digital transformation for the Client.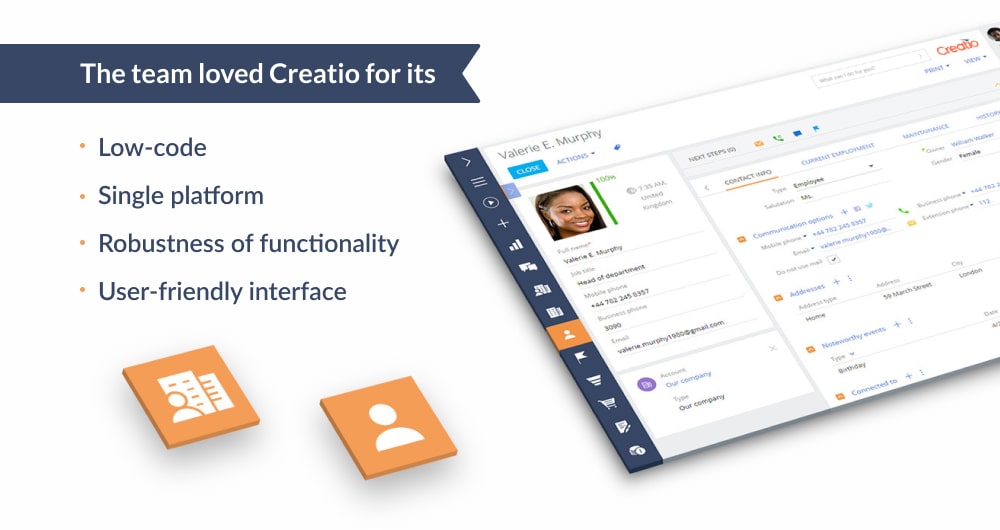 To integrate the CRM with the landing pages, Velvetech implemented a WordPress plugin on Callpop's main site. The plugin connected a landing page template with CRM so that all contact details went directly into Creatio. It also allowed the company to easily modify their landing pages and experiment with different marketing campaigns.
Creatio's built-in features expand way beyond usual customer management routines like logging all associated activities. Callpop sales managers got a powerful tool that allows them to communicate and track these communications via all possible mediums.
And with a little customization from Velvetech, the CRM automatically assigns leads to sales managers depending on their availability, which can be set by an admin.
Outcome
Once the project had been delivered, the Velvetech team set up a couple of training sessions for Callpop to make sure that the switch to the new CRM would go as smoothly as possible.
In the end, Callpop was able to get new leads into its sales funnel in 3 seconds, which is a drastic change from 30 minutes that this manual process used to take. Besides, leads were accurately indexed by marketing campaigns.
One of the best out-source development companies I've worked with. From Yuri, the CEO, down through his entire organization. Their service-oriented attitude, quality deliverables, and attractive pricing combine to provide top value. Looking for more opportunities to work with them.
COO, Callpop
What's Next
Callpop's sales crew now manages all their activities in the new CRM, exploring new use cases where the platform can help optimize the company's processes.
LET'S TALK
How to Get Started
Our specialist will contact you to schedule a personalized consultation within one business day.
Velvetech offers complimentary consultations; after which, we will provide you with a proof of concept in just 3 days, an accurate outlook of the cost and timeline of your project and a competitive estimation, and an assembled team – ready to start your project within 7 days.

Proof of Concept in
3 DAYS

Start Project within
7 DAYS
Apply For A Consultation Today!