Project: Salesforce migration to Creatio with an implementation of a customized Contact Center Solution
Duration: 6 months
Technologies: Low-code CRM platform Creatio, Contact Center Product Suite for Creatio, VELVETEL Cloud Phone System
Target audience: Sales department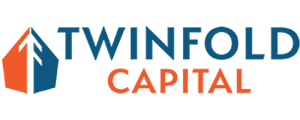 TwinFold Capital provides small business funding and working capital loan services. They focus on delivering quick funding by leveraging market expertise, resources, and long-lasting relationships to meet the needs of small businesses.
THE CASE
At the time of approaching Velvetech, TwinFold Capital's sales team had been using Salesforce and an integrated CTI, DialSource. However, the expense of the CTI and CRM along with the consistent data collision experiences with Salesforce had caused them to look for an alternative. Moreover, COVID-19 had uprooted the Client's business flow, hence they were also eager to improve efficiencies and work in a more consolidated manner.
The Client's Request
The Client reached out to Velvetech with the request to facilitate the transition from Salesforce to Creatio. Since DialSource was exclusive to Salesforce, TwinFold Capital needed another customized CTI panel to work with their new CRM, Creatio. Thus, it was also an essential task for Velvetech to handle.
Challenge
Part of the success of any company depends on the efficiency of its sales team. Hence, it's not surprising TwinFold Capital was interested in improving the productivity of its sales reps after the pandemic had changed internal business processes.
The Client used to work with Salesforce and DialSource, but despite some valuable features, the expense outweighed the value. Moreover, the latter lacked texting capabilities and often didn't track calls in the way the sales manager needed.
Having decided to move away from Salesforce to Creatio, the Client knew they'd need help with moving the data and customizing the platform with required features.
Given Velvetech's status as a Certified Creatio Partner and previous robust experience in such projects, the company approached Velvetech to assist with the implementation process.
Discover a CRM Data Migration Checklist
Process
After pinpointing all of the difficulties the Client was facing, our team was ready to start the migration.
The challenge was to smoothly port phone numbers from Salesforce to Creatio, set up VoIP telephony, implement a flexible local presence strategy and add customized features to the platform for efficient work. It was important to facilitate the transition while maintaining the efficient flow of sales operations.
To ensure a seamless switch and cover all of the Client's needs, Velvetech had to perform the following tasks:
Implement VoIP telephony
Port phone numbers
Set up call queues
Set up local presence, IVR, and blacklist
Expand the CTI panel with a notes function
Implement a Follow-Agent feature
VELVETEL Telephony Setup
For the sales team to work efficiently and avoid connection problems, stable VoIP telephony is necessary. Hence, we started by setting up VELVETEL phone system infrastructure. Creating user roles, updating call queues settings, adding the Power Dialer, and setting up Creatio were all parts of this process.
With a few iterations catered to what TwinFold Capital needed, we completed the setup and moved on to phone number porting and configuring specific features.
Phone Numbers Porting

After setting up the cloud phone system, the next step of the Salesforce migration process was to transfer existing phone numbers to the new platform. Keeping the same numbers was a must because the Client had already been using them across various channels. Specifically, all current advertising initiatives displayed these numbers, and changing them would mean spending money on new ads.
Phone number porting is a common request from Velvetech's clients. Therefore, our team had vast experience in such projects and managed to complete the task seamlessly.
Call Queues Setup
After implementing the new phone system, the call queues management, also known as a round-robin flow, was not properly set up yet. Specifically, an agent would have to call an internal extension number to say that he or she is ready to work and receive calls. Only then would the system begin forwarding calls to the agent's number. The same notifying procedure had to occur at the end of the workday for the employee to "log out".
The Velvetech team optimized this monotonous task and set up Creatio so that as soon as an agent entered the platform, the queue was automatically notified of his availability and would start forwarding calls. Likewise, upon signing out of Creatio, the system automatically would stop sending calls to this agent.
Local Presence, IVR, Black List Setup

TwinFold Capital had 350 phone numbers that required local presence. Unfortunately, this led to many spam calls that affected efficiency and statistics by filling up call queues.
To solve the issue, an extra step had to be added for incoming callers. Specifically, they now had to press a keyboard number to be connected. This simple action indicated that the caller wasn't a robot and the ring could go through. Thus, with the help of IVR, robot calls no longer affected the statistics, spam calls could be avoided, and agents would perform their work without distraction.
Additionally, the Client wanted to be able to switch between local presence and personal client calls easily. To facilitate that, a "Use My Number" checkbox was integrated into the system to help swiftly change the outgoing number.
One feature the team developed was the Use My Number checkbox to disable local presence. This was a tremendous help.
CRM System Manager
CTI Panel Expansion With A Notes Function
It can be very frustrating and time-consuming to simultaneously speak with a prospect, note down important points on a piece of paper or in a separate program, and then transfer it all into the CRM.
For this reason, one of the necessary customization tasks for Velvetech's team was expanding the CTI panel with a call results/notes feature. Essentially, it means that call center agents could now take notes without having to leave the call. Moreover, the system would automatically bring up the customer card that corresponded to the caller so agents would never have to waste time searching for the correct information.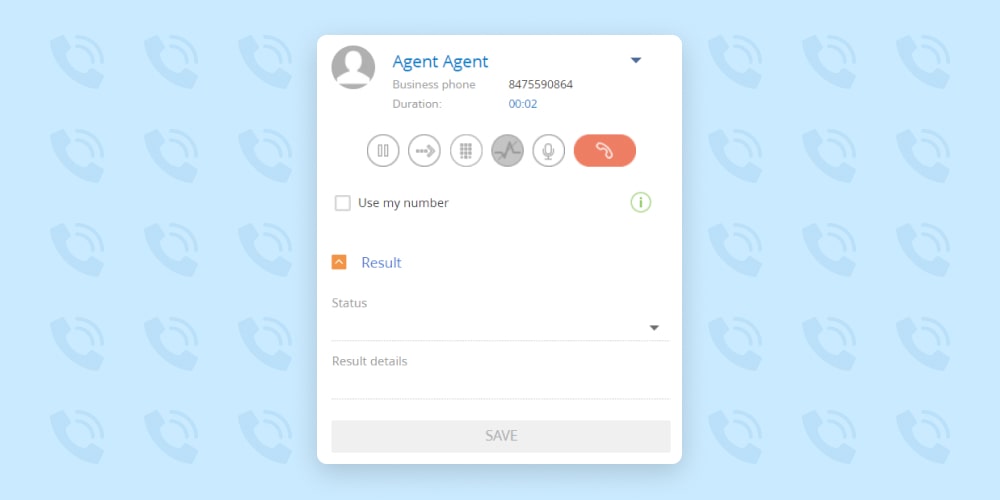 Follow-Agent Feature Implementation
Finally, the last part of the project involved implementing a Follow-Agent function. For a smoother experience, TwinFold Capital wanted their customers to always speak to the same agent, not switch around multiple ones.
Our team implemented the Follow-Agent feature, ensuring that regardless of the number the customer called, he'd get redirected to the agent he had already spoken with. That way, the caller would get more personalized service, and the agent would spend less time remembering the history of each customer.
Outcome
Thanks to the collaboration with Velvetech and an iterative implementation process, the Client now has a stable VELVETEL telephony and customized tools that help the business work efficiently.
We found that our previous business requirement for scripts and dialer queues was no longer needed. All thanks to the features of the Velvetech calling structure integrated into Creatio. The process of working with Velvetech can be trusted, as can the product. The collaborative culture of the team has been an important factor in our success.
CRM System Manager
Overall, the system migration from Salesforce to Creatio took approximately 6 weeks and the new CRM Creatio works in tandem with the contact center to facilitate the company's sales operations.
What's Next
Velvetech is still in close contact with TwinFold Capital and will continue providing technical support. Whether to integrate new features, expand the functionality base, or perform other maintenance tasks — Velvetech is happy to continue the collaboration.
If you are interested in improving your customer engagement with the implementation of an intelligent Contact Center Solution fully integrated with your CRM, feel free to reach out to Velvetech for a consultation.
LET'S TALK
How to Get Started
Our specialist will contact you to schedule a personalized consultation within one business day.
Velvetech offers complimentary consultations; after which, we will provide you with a proof of concept in just 3 days, an accurate outlook of the cost and timeline of your project and a competitive estimation, and an assembled team – ready to start your project within 7 days.

Proof of Concept in
3 DAYS

Start Project within
7 DAYS
Apply For A Consultation Today!