Our Client is a brokerage company out of Chicago. Their online brokerage platform is designed for investors, active traders, and investment professionals. It allows self-directed investors to identify new strategies for generating portfolio income, stabilize portfolio risks, and save time.
Through its tools and services, the Client is developing a more intuitive online experience to help investors find and develop new strategies to create, grow, and manage their investments.
THE CASE
Our Client is constantly improving its brokerage platform to keep pushing unique and compelling features to its users: self-directed investors and active traders. The issue that the company had was the previous development team's hit-and-miss performance. Thus, the company set out to find a new reliable partner for the platform. That's when they found Velvetech.
Trading Industry
Brokerage company's standard trading platform has all the basic tools to equip investors with interactive charting, streaming quotes, advanced orders, and trade alerts. However, if you really want to get into one of the most robust trading platforms, you have to set up a professional trading desk, where you can gain access to Sterling Trader Pro, SILEXX OEMS, RealTick, or TOP from Instinet trading platforms.
These trading solutions are all advanced trading platforms with all the bells and whistles including advanced charting and order entry, direct market access, hotkey capabilities, and Level 2. The platforms are sophisticated and powerful with some of the best customization features that brokers can get in the industry.
The Client's Request
Our Client originally reached out to us in 2012 to help with minor updates for its brokerage platform. The initial collaboration was so successful that our companies still retain their partnership where Velvetech helps with the investment software development and implementation of new functionality for the company's trading platform.
How We Did It
We have worked on multiple FinTech projects that introduced new features and updates to the existing functionality of the company's flagship product.
Commissions Payout
Brokerage company employed representatives responsible for managing customer accounts. Velvetech built a system to keep track of commissions by a firm, region, branch, and representative. The admin user got the option to drill down to account commissions where he could cancel and rebuild individual trades if the commission was incorrect.
We also added an option for reps to generate a pdf report for a given month and send it via email. The admin could also create a new commission schedule and assign it to a region, branch, or representative.
API Development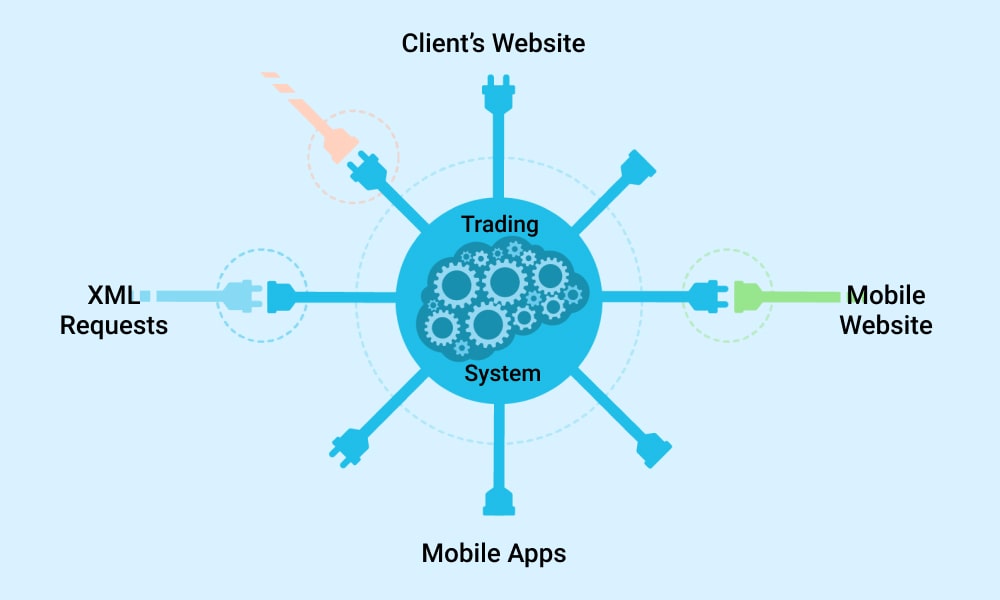 Our Client wanted to expose their functionality via APIs to the outside clients and interfaces so that they could send their requests directly to the company's trading system, rather than via the website only.
Eventually, that web API became the hub for requests from all interfaces, including the company's own site, mobile apps, mobile site, XML requests, etc. This way, Velvetech established for the Client a single point of entrance and maintenance for all client communications.
Group Trading
Velvetech worked on enabling a group trading feature. The company needed the ability for its reps to place bulk trades against inventory account in APEX and allocate bulk trades to individual customer accounts. As a result, individual brokers who worked with more than one account got access to group trading.
Cash Requests Automation

Brokerage company used to process cash requests from individual accounts manually. The operations department sent PDF forms to account holders. Once the forms were completed and signed, cash movement was manually initiated at the APEX back office. Velvetech helped eliminate unnecessary paperwork and bring cash requests processing online.
Challenges
Velvetech team started working on the trading solution when it had already become an established product. Therefore, the team made a considerable effort in the beginning, to figure out the architecture and all peculiarities in the source code. Fortunately, the company's founder had some background in programming and helped us speed up the process.
Another point worth mentioning is the transitioning period during which Velvetech joined the project. Our Client was in the process of transitioning from their previous team whose performance left much to be desired. In addition, the trading platform's tech stack required an update to operate even faster. Velvetech's expertise in Microsoft tech stack (Microsoft Gold Partner) came in very handy.
Outcome
The Client has achieved considerable brand recognition thanks to the new features developed by Velvetech for the company's brokerage platform.
What Now
Our companies continue partnering and planning future enhancements for the Client's product to provide the best investment management experience to all interested brokers.
LET'S TALK
How to Get Started
Our specialist will contact you to schedule a personalized consultation within one business day.
Velvetech offers complimentary consultations; after which, we will provide you with a proof of concept in just 3 days, an accurate outlook of the cost and timeline of your project and a competitive estimation, and an assembled team – ready to start your project within 7 days.

Proof of Concept in
3 DAYS

Start Project within
7 DAYS
Apply For A Consultation Today!