Project: CRM system implementation
Duration: 10 weeks
Technologies: low-code CRM platform Creatio, MailChimp, RingCentral VoIP telephony, Zendesk
Target audience: Marketing, Sales, Customer Service departments
Our customer, a large U.S. fintech company, allows small and medium businesses to control expenses before the transaction happens. Their subscription-based platform with smart, prepaid debit cards eliminates the need for cash, expense reports, receipts, and business owner's personal credit cards with reimbursable expenses.
THE CASE
The company's multiple software systems made relevant customer data unavailable to team members across the board, compromising the quality of customer service and sales. Delays and the lack of stability and real-time sync called for a single source for data management that would integrate all bits of data from disparate software systems.
Disrupting Commercial Finance with Technology Innovation
Any retail finance customer knows that consumer banking has changed radically, but commercial finance is scrambling to catch up with recent innovations. From the start, our customer was poised to deliver the software and service to shake up the sector by meeting the current and future needs of businesses.
In fact, the company realized so much success that it had to optimize its internal processes to be able to serve the growing number of customers. Working in the competitive environment of FinTech means juggling several complex systems that should operate unanimously: a call center, CRM, support desk, etc.
---
The Client's Request
The company asked Velvetech to integrate several systems ─ their in-house system with Creatio, MailChimp mailing server, RingCentral VoIP telephony, and ZenDesk ─ so that a single stable software platform could make customer relationship data available in real-time to all members of their team.
---
How We Did It
CRM System Implementation
As with any technology solution, choosing the right CRM is critical for all types of organizations, including financial services providers, advisors, and FinTech firms.
Analyzing our customer's existing systems was the first step in assuring that we had chosen the best platform for implementation.
We prepared functional specifications to integrate all of the software. Velvetech worked with the client's in-house tech specialist to make certain that the integration design would meet their vision and expectations.
While SMBs have smaller customer bases, they need to harness the data to an unprecedented level to exceed the industry standards for knowledge and service. It was determined that CRM Creatio was a great fit as a flexible and customizable platform that the company could scale up in the future.
After establishing the design and architecture of the platform, we then created data structures and integrations for the company's in-house business system and email server.
The data was migrated from the client's in-house system to Creatio. The automation of Creatio and its synchronization with the email system took just 10 weeks.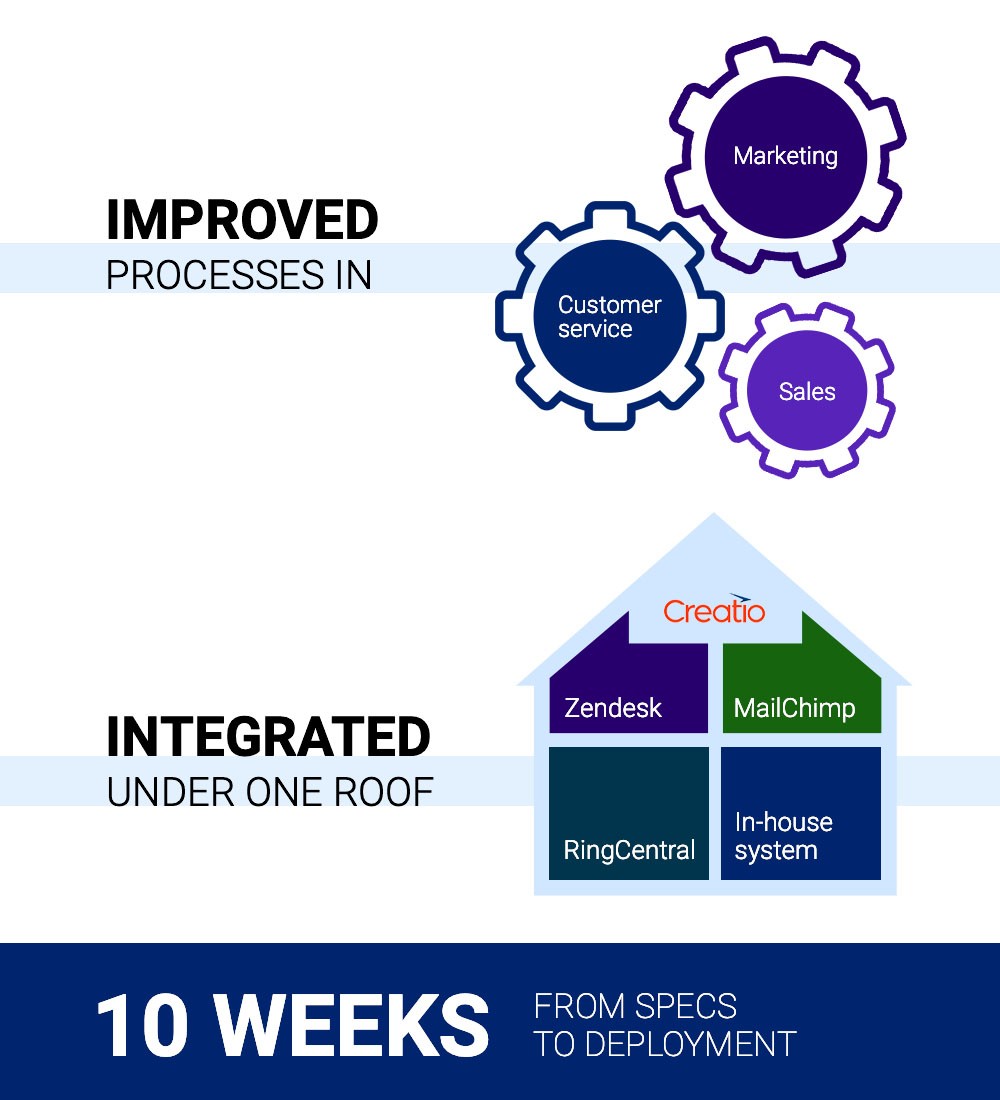 CRM Integration with RingCentral and Zendesk
The second phase of the project involved integration with RingCentral and Zendesk. Velvetech integrated RingCentral API calls into Creatio to pull all call recordings from the company's RingCentral® account into Creatio. As a result, the fintech firm's team got access to all customer data and communications within Creatio.
Integration with Zendesk included not only displaying customer requests inside Creatio under the corresponding account but also providing account details for display inside the Zendesk interface for better customer identification.
Training
As the system was rolling out, Velvetech provided extensive training for system administrators, managers, and end-users. All training sessions were recorded. They are available for quick reference and new hires.
Throughout the deployment phase, our project team was available on short notice to address any possible issues. Thorough testing and excellent client communication aided acceptance.
Challenges
Since the customer deals with financial information, security was of the utmost importance when integrating with third-party systems.
We at Velvetech understand the importance of proprietary information that we may not have access to and can gear up to work with in-house IT developers so that there are no concerns about security or data breaches. Access rights and user permissions also helped to secure sensitive data during CRM implementation.
The logistics were a challenge on the project because of the necessity for the client to perform the testing within their system. By communicating with the client daily via email, team collaboration software Jira, regular GoToMeeting calls, and a Slack channel, we were able to speak to any concerns and solve all issues before going live.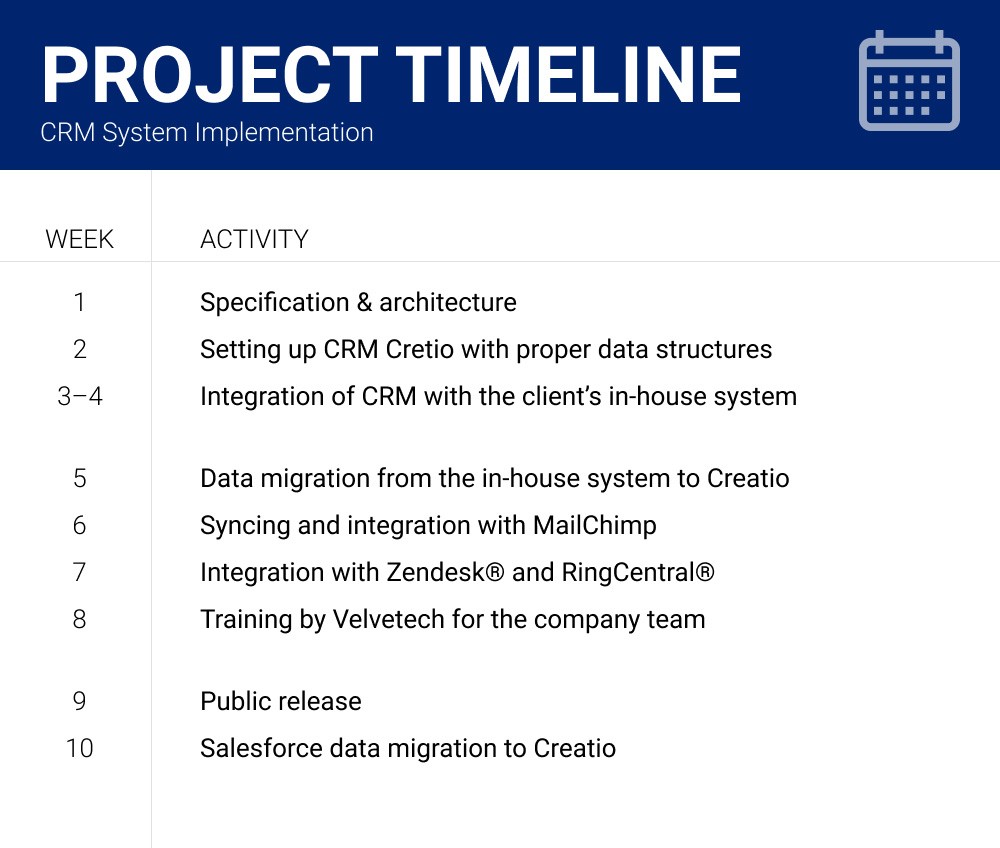 A Smooth, Profitable Outcome
By carefully designed CRM system implementation and client collaboration, Velvetech was able to create a stable and scalable software platform for the fintech company.
This case study is a great example of how CRM software can become a game-changing solution for the financial services industry. With transparent data, all of the staff who interact with customers can see relevant data in real-time, which enables them to work with customers better.
Velvetech has talented software engineers certified for CRM Creatio customization, who apply proven tools that are time-tested and create new innovative solutions that improve the ROI.
By having it all glued together, we can identify prospects we haven't engaged through any channel, and be more proactive faster. For business, that's everything. What Velvetech has done is given us a better way to engage with prospects who could really use our help. Velvetech is extremely important in that they build things that are lasting, stable and ultimately, make the software more valuable for our firm.
FinTech company
LET'S TALK
How to Get Started
Our specialist will contact you to schedule a personalized consultation within one business day.
Velvetech offers complimentary consultations; after which, we will provide you with a proof of concept in just 3 days, an accurate outlook of the cost and timeline of your project and a competitive estimation, and an assembled team – ready to start your project within 7 days.

Proof of Concept in
3 DAYS

Start Project within
7 DAYS
Apply For A Consultation Today!