For many businesses, the pandemic triggered a variety of changes, including a major shift to remote work. Some of the companies had been long practicing this approach, others — had to adapt on the go. Anyway, we can admit that WFH is here to stay and has become a new way of normalcy.
Those who tried to work remotely for the first time probably encountered some challenges and time consumption on the way to balanced and efficient work. On the contrary, veterans of this format scarcely faced any obstacles.
In any case, we can now sum up all experiences to avoid common mistakes and provide you with tips to stay on task and deliver results in an office-less world.
5 Tips for a Smooth Transition to Remote Work
In many ways, the transformation was far more than a mere shift to a new set of tools. Remote work is always about our preparedness to be flexible and to focus on the importance of communications. It's essential to develop a culture that forges the bonds and where all employees feel engaged and empowered together.
Below, we will cover a ready-to-go suite of solutions and recommendations for both employers and employees to remain productive outside the office.
ON-DEMAND WEBINAR
Expanding a Team
Watch our webinar to unveil the tricks of onboarding a tech partner and incorporating it into the process to foster your product delivery.
1. Seamless Collaboration and Productivity
While rolling out mandatory remote work and going through the transition, the primary step is to dive into organizational change and rethink how employees can collaborate. Revisiting the technology stack and confirming its throughput is enough for increased demand are essential for a smooth shift.
A core set of solutions can vary from industry to industry and even specific company to company. Still, there is an available choice of tools and platforms that almost every organization finds useful when working on projects.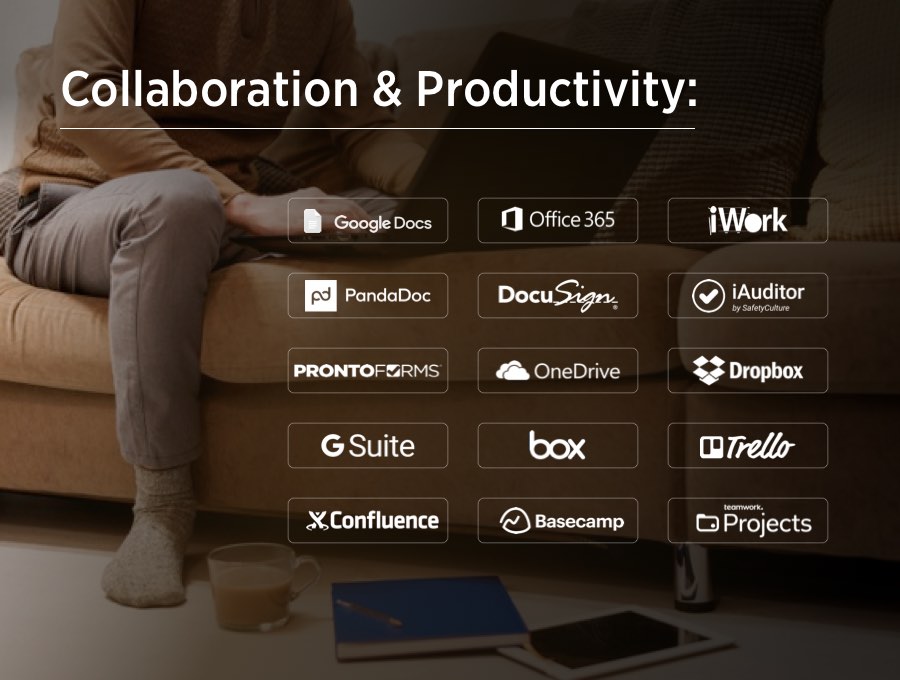 To deliver real-time collaboration between colleagues, apply Google Docs, Microsoft Office 365 apps, or iWork suite that comes with Apple devices. Here, you can control what each employee has access to depending on the set of permission groups. For example, you can grant access to certain teams or individual team members only.
On top of that, such document management and electronic form apps as PandaDoc, DocuSign, iAuditor, or ProntoForms can come to help when you need to perform complex calculations and inspections or to capture and share signatures.
Learn more: The way to enhance Document Management experience
Cloud storage tools that enable employees to access important work files and documents help them remain productive and keep their processes functional. File sync and share software, like Microsoft OneDrive, Dropbox, G Suite, or Box, is a mighty helping hand in the virtual work environment.
Project and task management apps are another set of tools that contribute to creating a collaborative, inclusive, and efficient WFH landscape. They provide support when it comes to planning, monitoring, and sharing project activities as well as visualizing tasks. For example, take note of such platforms as Trello, Jira/Confluence, Basecamp, and Teamwork Projects.
Being an employer, keep in mind that home space is not the same as the office, and your staff might need some assistance to adapt. Not all of them can effectively shift to remote work with little guidance. Thus, support your teams with well-written clear instructions and make sure they know how to connect to and use chosen tools from home.
2. Effective Communications
Regular and open communications with colleagues, clients, and partners are another key to successful and efficient remote work.
ON-DEMAND WEBINAR
Gaining Control of Customer Engagements
What if every customer could deal with your single most effective sales or service person?
Oftentimes, when we are in the office, talking to each other is effortless. It may be a random stop by the watercooler to chat about the latest changes in the company or a strategic discussion in a meeting room. Any of these stories requires a good set of tools when switching to WFH.
A variety of communication apps allows everyone to stay connected and share information. Whenever you need to hold an online meeting, send updates, or discuss the details of the project using screen sharing, turn to one of these conference tools and chat apps:
Microsoft Teams
Zoom Cloud Meetings
Skype
RingCentral Meetings
Cisco Webex
Slack
While working remotely, your business phone and number cannot be out of reach. With a Cloud Phone System, you can make and accept calls from anywhere using your soft- and desktop phones. On top of that, your phone numbers, call flows, and configurations will remain the same as in the office. Thus, you don't need any additional settings and resources to maintain it.
A cloud phone system can be a good ground for setting up an Intelligent Contact Center. Access to call analytics and smart dashboards with reports will allow you to keep track of your call center productivity. This way, you can help employees stay connected to clients, and your company – remain flexible and efficient.
AI-Based Contact Center Product Suite
Full-featured Inbound & Outbound call center with AI-based agent scoring and call analytics.
3. Secure Access
When company devices are exploited outside of the workplace, it is necessary to think about their physical security. Ensure protection against loss and theft by applying full-disk encryption and a strong password policy. This will prevent important data from harmful access.
Another scenario is when the company allows employees to use their own devices. First of all, always configure VPN to connect to key corporate services as it reduces man-in-the-middle attacks. Also, secure access with multi-factor authentication, implement endpoint security policy and use tools to generate one-time codes. These actions enhance protection and provide authorized access.
Need help with adjusting your corporate remote work environment?
Finally, it is important to remember that focusing only on projects and work is not everything. Coworkers need to feel engaged and involved as it always has been a significant part of social culture. The platforms mentioned above can be a great clubhouse for discussions and informal virtual meetings. Stay creative, provide a stream of news to colleagues, and get together online for a coffee break or Friday beer.
4. Dedicated Workspace
In addition to tech tools adjustment, home workspace requires a little more – creating a suitable and comfortable environment exclusively for work. If, like the majority of people, you lack a dedicated office in your apartment or house, choose for yourself a room or a part of it to separate where you rest and where you toil.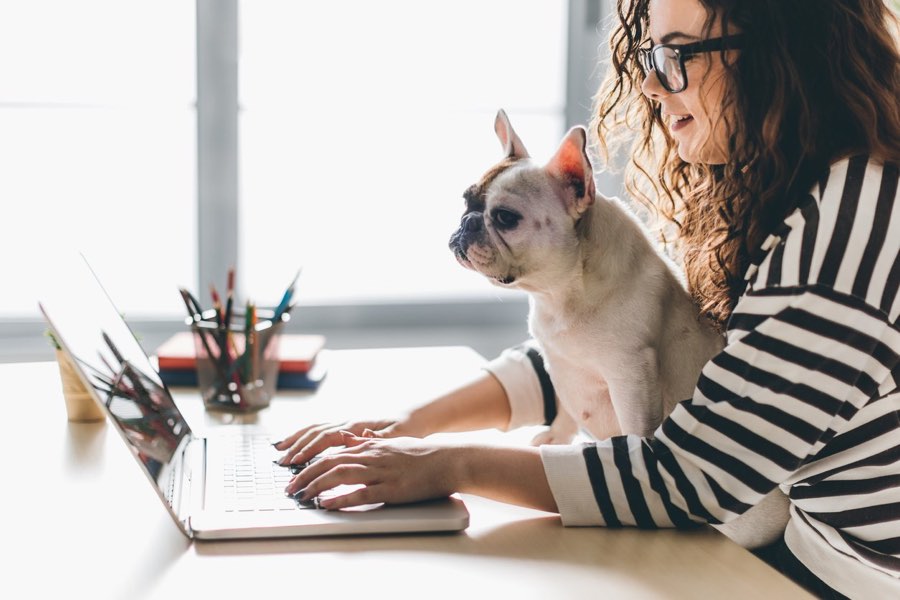 Productivity is on top of the list that all of us want to focus on. Most likely, keeping pajamas on, stretching in bed with a laptop, or lounging on the couch with your pet beside you would scarcely elevate your energy. Setting up an ergonomic workspace is effective not only for increasing concentration but also for relieving neck and shoulder pain. Here are the Guardian's tips and recommendations to find out more.
65% of respondents said they are more productive in a home office
Click To Tweet
With the right organization of your dedicated work area, it becomes easier to unlock the benefits of working remotely. According to the FlexJobs survey, 33% of respondents report the same productivity when working from home. At the same time, 55% said they are more productive in a home office. To similarly feel all the advantages of the new working place, take care of:
Stable and high-quality internet connection
Ergonomic furniture
A separate monitor, keyboard, and mouse
A desk lamp and apps calibrating your monitor
A multi-plug extension cord and power outlet
Some decoration to make it a more enjoyable spot
5. Productive Schedule and Routine
When the boundaries between life and work blur, the important thing to keep your eyes on is the schedule and routine structure. First of all, create some home office rules and set limits for people you live with. For example, if the door is closed, or you are behind a computer, family members get a signal that you are 'at work' and no distractions are welcome.
As an advantage, remote work provides some diversification and possibility to factor other parts of your life into a daily schedule. Of course, this does not mean that watching Netflix can substitute task implementation. Flexible working hours agreement and avoiding deviation from it makes the routine more managed and helps get into the work mindset.
One of the biggest challenges for remote workers, according to this Buffer report, is unplugging after work.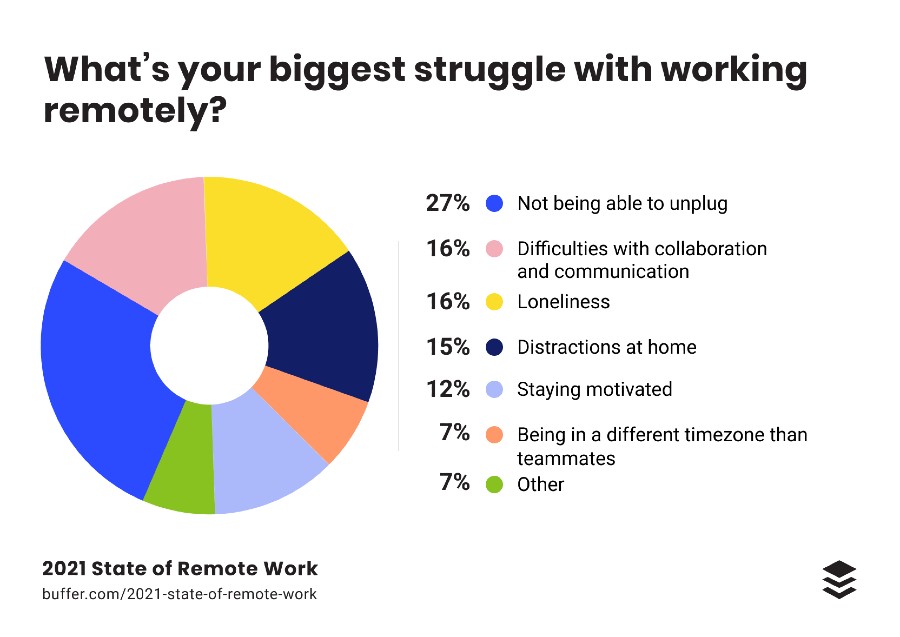 As well as it is wise to kick off the day by getting dressed, having breakfast, and hitting the work, it is also necessary to bookend the day. Going for a stroll or exercising helps set up frames and psychological transitions.
Lastly, home is a perfect place to find a distraction, and it can become a stepping stone for productivity decrease. When attention is scattered around, integrate into your routine boosters that work best for you, like regular breaks for a coffee, self-imposed deadlines, and checklists. Apps such as Todoist, Reminders, and Things will keep you focused on tasks and projects at hand.
Working Remotely in the New Normal
The shift to WFH may accommodate a vast range of opportunities for companies and their employees. Prospects like growth, enhanced efficiency, and flexibility await those who take the right moves while changing the working conditions.
Providing the proper set of tools, engaging staff in a remote work environment, and keeping everyone connected – these steps are inevitable to keep your teams productive.
If you still have doubts about whether remote work is the right format for you, watch this TEDx Talks video on the relevant topic, explaining why it is efficient.
Together, we can take advantage of virtual work experience, support each other, and cope with any disruptions. As usual, Velvetech is here to help you with any of your business challenges and support you by adjusting your remote work environment. Contact us to make the transition smooth.
Get the conversation started!