Businesses have been talking about mHealth solutions since 2009 when wide adoption of smartphones, tablets, and wearables reached a critical mass.
The term mHealth was coined in 2006 by Robert Istepanian to describe "emerging mobile communications and network technologies for healthcare".
Over a decade later, the mobile healthcare industry is getting ready for a wave of big changes. There are all kinds of signs:
Apple and Samsung announcing serious mHealth initiatives
Blockchain technology advances
Quantified Self movement and abundance of fitness & wellness mobile apps
Moreover, the global mHealth market size is projected to reach $246.82 billion by 2025. What might be driving this growth? Well, a variety of factors.
Rising concern for personal health and increases of chronic diseases like diabetes, cardiovascular disorders, and obesity are all contributing factors to the mHealth app market expansion.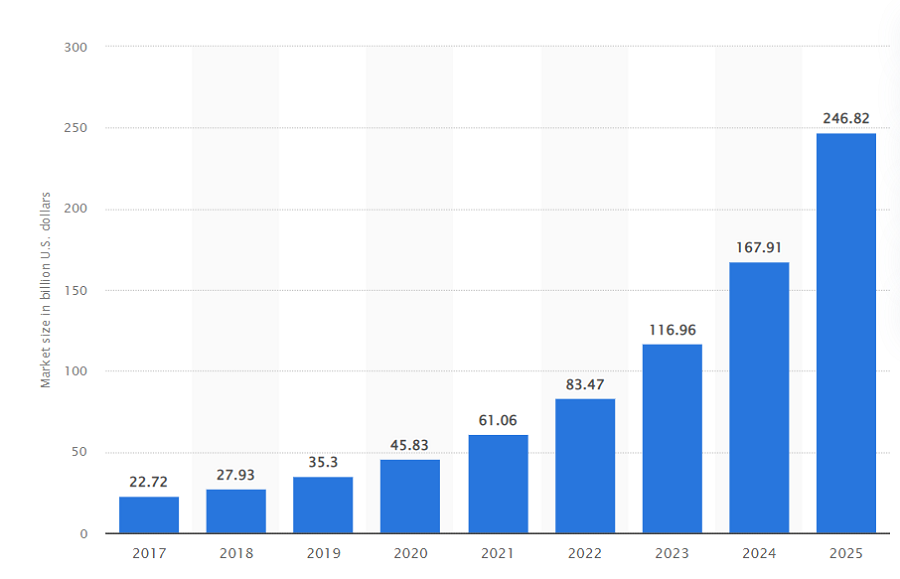 Source: Statista
With such rising popularity, medical business leaders have also become intrigued and are excited about the benefits of mHealth tools. So, let's take a closer look at this technology and uncover why it might be so appealing to end users and health organizations alike.
Consumer-Focused mHealth Apps
First, let's establish, what is mHealth? In short, the term translates to "mobile health" and refers to mobile apps and other connected devices that might be used in healthcare for monitoring someone's well being.
Often, mHealth apps are simply used by consumers in their everyday life to keep track of exercises, heart rate, steps taken, and the like. However, they can also be used by patient-centric organizations for remote patient monitoring to improve preventative measures and even diagnostics.
Discover how we built a Remote Patient Monitoring Solution for Urology
By and large, mHealth innovations require a solid app-powered framework. No wonder even such tech luminaries as Apple and Samsung rely on their own mHealth apps. These mobile health applications work as hubs for the user's health-related data.

In fact, the data accumulated by the mobile health apps is the cornerstone for the modern consumer-focused mHealth solutions. Current big-data technologies allow for comprehensive analysis of massive health information with the aid of artificial intelligence algorithms and machine learning.
Learn more about AI in Healthcare
According to findings by Rock Health, a venture fund and research firm dedicated to digital health, 2021 was a record-smashing year for digital health, with funding approaching $29.1B across 729 deals.
On the chart below you can see that eHealth businesses focusing on mental health, diabetes, and cardiovascular areas got most of the funding.
Source: Rock Health
Despite such success of the consumer-focused mHealth apps market, it's important to remember that medical organizations can benefit from the data these solutions gather and process as well.
After all, if you can improve the quality of services you deliver to patients through remote medical surveillance and analytics, you'd be remiss not to take that opportunity.
Read about the Development of a Mobile Medical Surveillance App
Users' mHealth Data Belongs to Who?
The data that mHealth solutions accumulate is something that everybody craves: healthcare organizations, drug manufacturers, regulators, government, and last but not least the end users.
Not being able to fully control your own data, especially one that is as valuable as healthcare data, provides too little incentive for the users to flock to mHealth applications. After all, it does feel a little like being a lab rat for big-boy companies.
Businesses are constantly seeking new ways to attract users to use their mHealth solutions. The most recent initiatives include innovative blockchain-based mHealth solutions that stimulate consumers by offering various rewards for engaging in sports activities.
mHealth Solutions: Trend-Setting Apps
The recent years introduced us to a whole new class of mHealth solutions that put the user front and center of this health data equation by giving them more control over their data. This, however, is not the most progressive feature of these apps.
The new thing is paying or rewarding users to get them to use your mHealth app and feed the app with their healthcare-related data.
It's not like these mHealth solutions will make users rich, not even in their lifetime, but it definitely looks like these incentivizing, health-oriented apps get phenomenal interest from the crowd. Let's take a closer look at some of these mHealth solutions.

Sweatcoin
Sweatcoin, a London-based start-up pays users in cryptocurrency for the steps they register within a Sweatcoin mobile app: 1000 steps equals 0.95 sweatcoins.
Users can spend their hard-earned coins on a wide array of goods and services ranging from yoga classes to sports shoes, iPhones, and Apple Watches. They can also opt to donate to partnering charities.
"The team at Sweatcoin have experienced phenomenal growth since launch… and have created a new, powerful 'Movement Economy' that rewards people…"

— Reshma Sohoni, Co-Founder of Seedcamp
Sweatcoin is currently working on expanding their geography and have recently added a blockchain solution that allows users to convert sweatcoins into a cryptocurrency called SWEAT.
Find out How to Make Your Own Crypto

Evidation
Evidation goes a step further. Just as Sweatcoin, the company operates off the mobile apps that record users' activities through integration with a plethora of fitness apps. However, Evidation users get payments to their PayPal accounts or via direct deposits.
Apparently, achievers can get paid for such activities as yoga, meditation, and healthy sleep in addition to the number of steps they make. The service currently boasts almost 5 million active members and seems to be steadily gaining popularity.
Additionally, the technology and services company helps individuals and the world's most advanced healthcare companies understand and influence everyday behaviors by performing health-related research.
In fact, Evidation's customers may receive bonus offers for participating in the studies and research by Evidation Studies. Currently, the company conducts research in Migraines, Diabetes, and Hypothyroidism, to name just a few.
However, there is a caveat. Users have to first spend money on STEPN's NFT sneaker before they can begin earning the platform's native tokens as a reward.
Backed by well-known giants like Sequoia Capital and Binance, the "move-to-earn" startup has actually raised $5 million in a seed funding round at the beginning of this year. Thus, clearly showcasing venture capital interest in incentivizing mHealth applications.
mHealth Data Challenge
One major issue all the above-mentioned apps address is data interoperability. mHealth market is very segmented. There are so many app providers offering a specific set of features and lacking other health parameters that it may be a real challenge for a newcomer to pick, let's say, an app for running.
mHealth apps also usually focus on gathering some particular health information. While Apple and Samsung manage this to a certain degree with their Health apps that strive to operate as the hubs for users' health data, a lot of the health data remains scattered among all sorts of mHealth apps:
Health education and awareness
Diagnostic and treatment apps
Lifestyle improvement apps
Point of care diagnostic apps
Disease and epidemic outbreak tracking
Remote health monitoring
Pills and medicines reminders
Telemedicine apps
Patient portal apps
There is little incentive for mHealth service providers to integrate their solutions as every stakeholder is interested in monetizing users' data. Blockchain-powered initiatives might be a good attempt at liberating this health data and distributing it to all involved parties. This will ensure steady progress for health care where everyone benefits.
Time to Map Out Your mHealth Strategy
Looking back at 2021 results in digital health funding, this year certainly promises to be ripe with healthcare innovations as well. Chances are, a large chunk of these innovations will come from mHealth solutions empowered by the blockchain technology.
So, no matter if you'd like to build your own consumer-focused mHealth app that revolutionizes the market or are interested in acquiring a tool for enterprise-use — reach out to us for a free consultation. Velvetech will gladly assist you with mHealth solutions development and share expertise in blockchain and mobile apps.
Get the conversation started!
Discover how Velvetech can help your project take off today.