Dear Clients, Partners, and Friends,
As this week leads us to Thanksgiving Day, it's time to get ready to host a big family feast and start jotting down a grocery list for a turkey recipe. In the US, travels are predicted to rebound to pre-pandemic levels, which means we can sit around the table with our loved ones and remember everything precious for us in life.
This year, most of us have adapted to the changes and could learn to appreciate new reality with its challenges and opportunities, both personal and business. In essence, that's what eventually makes us stronger and provides growth.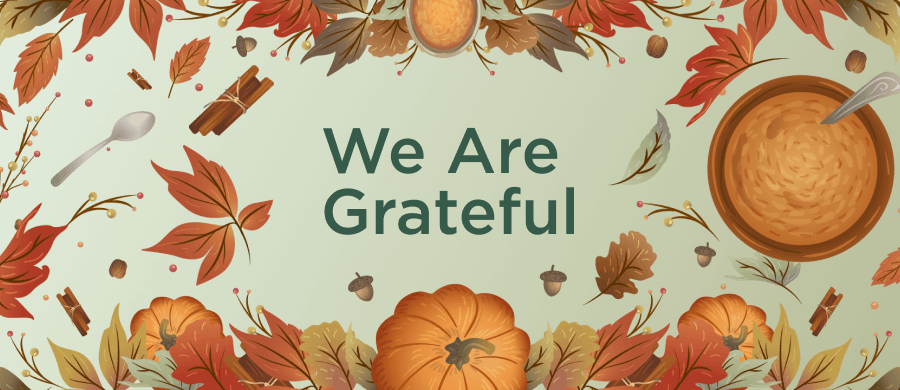 Sticking to the annual tradition of expressing our gratitude, Velvetech is happy to share with you meaningful moments, achievements, and experiences — all things to value and be grateful for.
Project Experience
The first portion of our gratitude goes to the opportunities that allowed for reinforcing our portfolio. Velvetech cemented its expertise in IoT app development by executing a range of complex projects. One of them was designing a torque sensor and mobile apps to measure anchor's installation and help an engineering company win a valuable deal.
Learn more about IIoT System Development for Dinamic Oil
Another project we are proud of was supporting a healthcare company by delivering a real-time location system for indoor tracking. This experience provided us with the solid background to elevate our IoMT development services.
On top of that, our team was happy to assist companies with implementing and customizing CRM solutions, building web SaaS platforms, and delivering other tech tools to automate business processes. We enjoy working with clients from various industries and highly acknowledge their input in our evolution.
Collaboration with Partners
We genuinely appreciate our partners and all the opportunities we had this year to collaborate with each of them. Primarily, our common efforts were focused on AI and ML technologies that keep reshaping business processes across many industries.
Together with Creatio, we continued implementing products to empower sales, marketing, and service operations. Our AI-Based Contact Center Solution has already gained the trust and helped many companies deliver an exceptional customer experience.
Inspired by this success, our team designed add-ons for Creatio to integrate with RingCentral and Amazon Connect cloud phone systems that allow clients to benefit from effective communications.
Velvetech was also happy to participate in virtual events like RingCentral Connect, Creatio Low-Code Marathon, and Accelerate Global 2021. We're thankful for being engaged in these conferences and joining industry leaders to share insights about tech strategies.

Expanded Expertise
Another achievement deserving our special gratitude is Velvetech's qualification as an Endorsed Education Provider given by the International Institute of Business Analysis. We are proud to prove our expertise in this field and be licensed to create and offer courses according to the core IIBA certifications.
Always in pursuit of perfection, now our team of BAs has even more room to maximize their potential. Following relevant methodologies and practices based on global standards, they effectively support complex software development projects and ensure successful outcomes.
Team Growth
This year, Velvetech's team has been largely expanded, which allowed us to amplify our expertise in different fields. Data Scientists, DevOps Engineers, .NET Developers, FPGA Specialists, and other professionals joined the company to deliver excellence in our custom software development services.
We're giving thanks to more than 130 people, working hard to support with their knowledge various requests from our clients. It's the input of every team member that results in the success of a wide range of projects — from web & mobile app development and CRM customization to IoT design, hardware engineering, and enterprise software implementation.
Your Support
We are genuinely and deeply thankful for the support of our clients and partners. It wouldn't be possible to achieve success and master our expertise without your trust and continuous engagement. Thank you for choosing Velvetech and sharing our values.
Last but not least, we would like to express infinite gratitude to our families and friends who help us constantly grow, believe in the best part of us, and make the journey of every day full of meaning. In our heart of hearts, we appreciate your presence in our lives.
We wish you a blessed Thanksgiving and a joyous Holiday Season to you and your families!
Sincerely,
Velvetech Team
Get the conversation started!
Discover how Velvetech can help your project take off today.