Did you know consumers downloaded over 197 billion mobile apps to their phones in 2017? Most of these downloads come from the 5 million apps in the Google Play and Apple App stores. With so many apps on the market, you need high-quality custom application development services to attract high-value users.
You do not have the luxury that existed a few years ago where you publish a mobile app and have an instant audience flock to your solution. Instead, you need a comprehensive strategy designed for your specific business needs.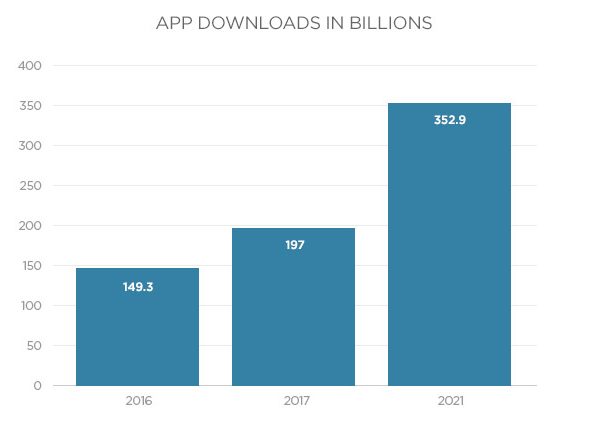 Source: Statista
Custom versus Canned Solutions
The biggest question we usually get next is "Why exactly should I use a custom solution over a canned one?" Here is the difference between canned (aka off-the-shelf) and custom solutions.
Canned Solution
A canned solution is like it sounds. It is an off-the-shelf software solution with many canned features and add-ons included already.
Canned solutions are great for a new company exploring mobile apps for their business. The challenge is they do not have the fluidity and specialized services a custom offer provides.
Custom Solution
Does your business have specialized needs other companies might not have? Do you need a flexible solution to grow with your company? Do you want to avoid an application with too many unwanted services that clog up your app and confuse your users?
If you answered yes to the questions above, then you want a custom application. Below we discuss why your business can benefit from our custom application development services.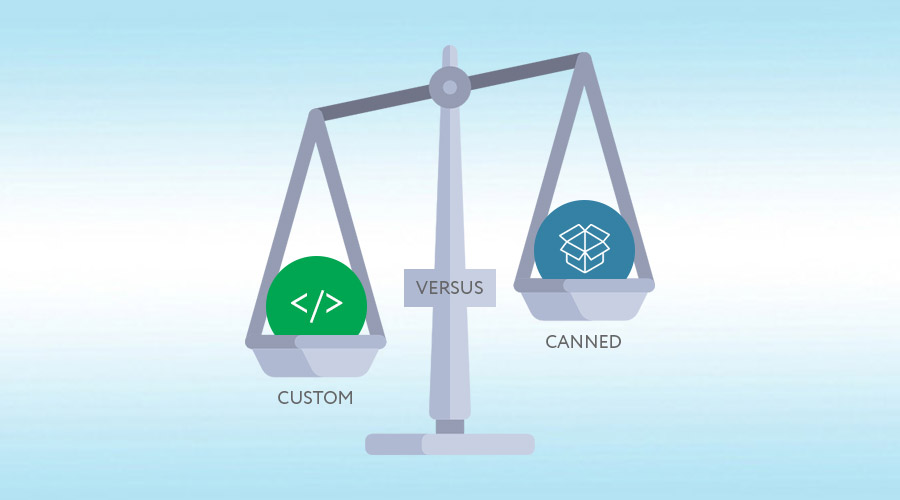 1. Personalized Solutions
As we discussed above, your business has specialized needs. Your mobile application should answer those needs. Application customization provides a flexible solution that complements your company's goals.
A successful application development services provider treats all customers as individuals with specific needs. Customization process starts with business analysts getting to the bottom of your business goals.
They transform your business requirements into the app functionality, taking into consideration platforms specifics and hardware options.
2. Resource Efficient
Canned solutions come pre-packaged with many unwanted add-on features. Your app becomes a random collection of tools that take up valuable resources and waste the user's time. This is deadly to the success of your mobile app.
Even though mobile app usage has increased this year, the number of active mobile apps per user is down from 21 to 20 apps per month according to eMarketer's report.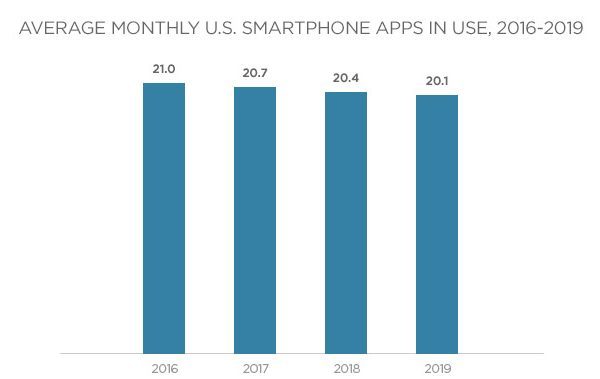 Source: eMarketer
Many developers focus their time on more utilitarian apps that do one thing extraordinarily well. The all-in-one mobile app lags in this category.
3. Easier Maintenance Requirements
When you work with a custom application development service provider, you save money in the long-term. Building mobile applications according to the specifications makes maintenance easier and cheaper over time.
A good rule of thumb is you need to spend approximately 10% of your development budget annually updating your mobile app.
This will make your app work on the most recent mobile OS version and will keep it fresh and aligned with the latest UI/UX trends.
4. Scalable
No one builds a mobile app for it to sit and languish on the Google Play or App Store. Instead, you want the app to grow. Canned solutions do not always provide these capabilities.
Additionally, the licensing cost might be prohibitive as the mobile app grows. Many app builders like AppGyver and Appian get progressively more expensive as you scale.
It makes the system dangerous for businesses reliant upon these platforms for their mobile apps.
5. Easier Integration
With countless software programs available today, it is vital for your platform to integrate easily with other software solutions. We build native mobile apps that easily integrate with third-party services like Salesforce, RingCentral, PayPal, or QuickBooks, etc. via API.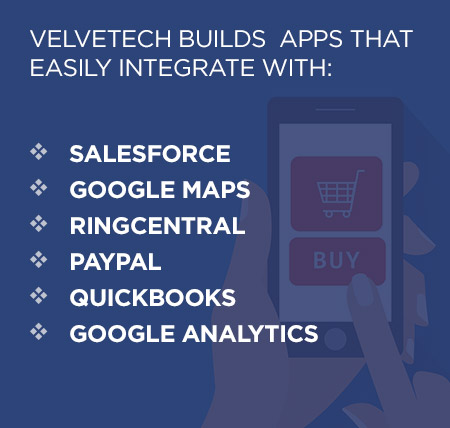 6. Better Customer Support
Not surprisingly, a canned solution does not include a lot of customer support. Comparatively, a custom mobile app means there is a team working on your project. You can connect with the project manager, account manager, and developer whenever you have a problem with the app.
7. More Secure
Did you know up to 95% of all mobile applications are vulnerable to a security attack? Consequently, you need top-notch security for your mobile app. Many companies that offer canned mobile apps are not always as quick to come up with solutions.
Velvetech does not rely on the simple user and password authentication. Instead, we use secure encryption techniques to protect our enterprise customers.
Final Thoughts
While a canned mobile app can be a great bootstrap variant, the majority of mobile apps benefit from a personalized touch. Let us know how we can help you with our custom application development services.
Get the conversation started!
Discover how Velvetech can help your project take off today.