Whenever companies set out to develop new software, they might get overwhelmed by all the tasks piling up on the to-do list. From assembling a skilled team to allocating a budget, there's no shortage of work before any development even begins.
However, amidst all the excitement, it's important not to forget about the value of planning your approach towards catering to user needs. Specifically, it's a good idea to spend some time on the development of your solution's UX strategy.
ON-DEMAND WEBINAR
User-Driven Approach
Watch our webinar and learn the top ways of reducing poor user satisfaction, low adoption rates, and decreased loyalty.
For some, UX design may not be an immediate priority, but that definitely doesn't mean it should be placed on the back burner while you tackle other pressing tasks. After all, having a coherent user experience is what can make or break your product.
"Companies that excel at design grow revenues and shareholder returns at nearly twice the rate of their industry peers."
So, in today's post, we shall dive into the subject of user experience planning. Concretely, we'll discuss:
Ready to get started?
Importance of Developing a UX Strategy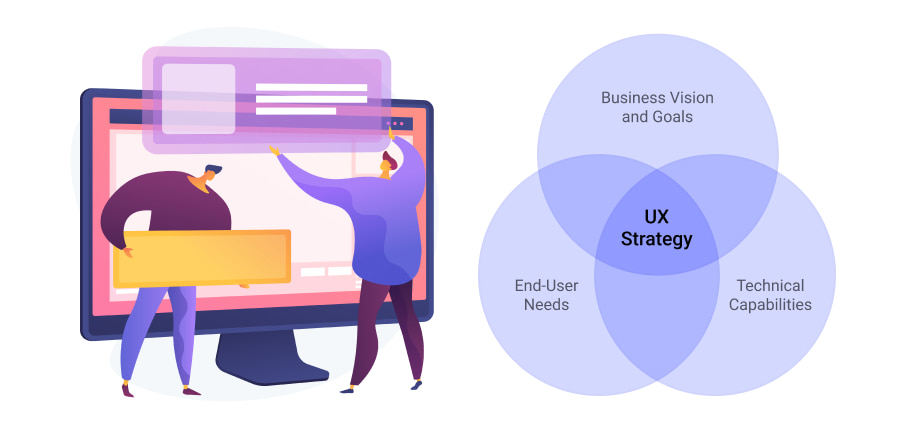 First, let's answer the question some might already be asking themselves, what is a UX strategy?
In short, it is a carefully laid out plan for how you will deliver an experience that your software users value and ensure it smoothly ties into the overall goals of the company. A UX strategy combines organizational and end-user needs with technical capabilities within a single roadmap for catering to all of them in the best possible manner.
A UX strategy can be project-specific or company-wide. Ideally, both need to come together to achieve your vision of what people should experience when interacting with any aspect of your organization.
Typically, a user experience strategy is defined before the design or software development process begins. That way, the team can base its work on a direction that has already been laid out. Thus, minimizing miscommunication and ensuring everything goes smoothly.
Learn more about the Full Process of Application Development
Components of a User Experience Strategy
As we've mentioned, a UX strategy aligns all members of the software development team and helps them stay focused on a shared vision. It helps ensure consistency across all user journey touchpoints, product features, and devices.
As such, a strong UX strategy should include:
A vision for how your product functions and the value it delivers
A research-based summary of your user's needs, behaviors, and expectations
An outline of the goals you want to reach
A list of KPIs you'll measure to assess the effectiveness of your UX strategy
A plan for achieving each of the above-mentioned goals with concrete action steps
Of course, you may choose to add more or less details into your user experience strategy document. However, don't rush through its creation because a well-thought out UX guideline is one of the things that's going to ensure the success of your application.
Find out How to Explain Your Ideas to the Development Team
Common Risks of Having No UX Strategy
Now that we've covered the importance of developing a UX strategy, you probably understand the value of this document and are eager to get started on it. However, if you still think that the user experience doesn't warrant too much of your immediate attention, this section is for you.
You see, if you rush through the development of your project's UX strategy or, even worse, choose not to create one at all, there are several challenges you may face.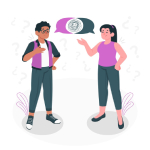 Misunderstanding of User Needs
Without a coherent UX strategy, you are essentially skipping the process of researching user needs and behaviors. Hence, you risk misunderstanding why end-users might be interested in a product like yours and what are the best ways to cater to their requirements. Naturally, this can lead to high churn rates and overall poor performance of your final product.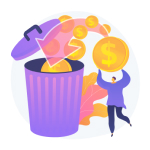 Waste of Resources
Another major risk of having no UX strategy is waste of resources like time and money. You see, without a carefully laid out guideline, your team of designers and business analysts may struggle with the direction and goals that it should be working towards.
Hence, it will be hard to prioritize tasks, allocate resources, and generally move towards project completion. Needless to say, this will only cause project delays that incur unnecessary costs.
Determine the Costs of Your Software Development Project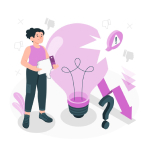 Project Failure
Lastly, if you avoid developing a user experience strategy, you're putting the entire software project at risk. After all, if the UI/UX of your solution is subpar and causes frustration, users will quickly abandon it and turn to alternatives. Thus, burying your goals and ambitions into the ground.
ON-DEMAND WEBINAR
Lack of Developers
Find out how to deal with the lack of IT talents without compromising project delivery.
How to Develop an Effective User Experience Strategy
A UX strategy comes before the design and development phases of software development. As such, it's all about research, planning, and preparing the guidelines of a UX that your brand new solution is going to possess. In order to develop an effective strategy, there are three important steps for you to follow.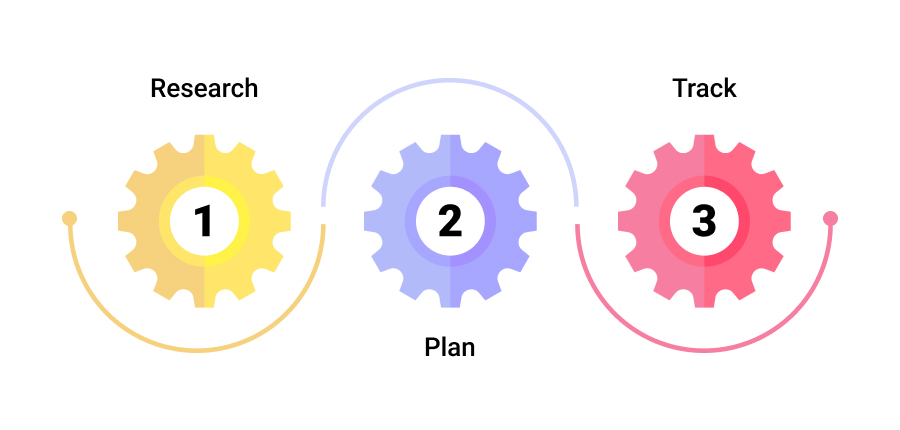 1. Research
When forming a UX design strategy, everything begins with research. No matter the type of software you're developing, a consumer-facing mobile app or an employee-focused enterprise solution, you've got to figure out what exactly you're dealing with.
Discover the Difference Between Consumer and Enterprise Apps
Specifically, there are three groups of people you've got to look into — stakeholders, users, competitors.
Stakeholder Research:
First, it's important for all the key stakeholders like CEO, CTO, and top managers to get on the same page about the goals of the project. What is the scope and the budget? What does everyone think a good user experience of the product should look like? These are the types of questions that need to be addressed at this stage.
Ideally, stakeholder research should be conducted in the form of meetings and interviews. That way, if anyone has conflicting ideas or priorities — they can be settled immediately. Once that's done, it'll be a whole lot easier to move on with the next steps of strategy development because the team will be guided by the identified objectives.
User Research:
Next, it's time to get to know your target audience and conduct user research. The chances are high that this part is what will take the most of your time. After all, you want to be confident that you've correctly identified the needs of your future users. Here, you've got to determine the following:
Who are the target users of your solution?
What problems do they have and how are they solving them right now?
What are their preferred devices?
What do they appreciate in similar products?
Overall, the better you understand your target audience, the higher the likelihood of developing a good UX strategy that drives positive results. So, don't hesitate to conduct surveys, run focus groups, and speak to the people you'd like to cater to. The more quality information you gather — the better.
Find out how we Redesigned a Website to Increase Attractiveness for Users
Competitor Research:
The third group you've got to research is your competitors. This, of course, is more relevant for consumer-facing products as the information about them might be more readily available. So, at this point, it's time to analyze what the competition is doing, identify where it might be lacking, and think about how you can differentiate.
Check out customer reviews, social media posts, comments on forums, and any other information you can get your hands on. It will help you determine what the strengths and weaknesses of your competitors are and thus figure out how you might be able to stand out.
2. Plan
Once you're done with research, it's time to analyze all of your findings and put the relevant information you've gathered onto one document. At this point, you've got the UX goals you want to achieve and what's missing is a plan of action on how you'll reach the set out objectives.
At this stage, you might want to focus on prioritizing features within your app's interface. Typically, it'll be the ones your users have expressed the most interest in, and the best thing to do is make them easily accessible.
Additionally, it's important to remember that a user's interaction with your application starts way before it is actually downloaded or opened. Instead, the user experience might begin from the moment a person hears about your product and decides to look into it.
Thus, you need to think of the entire user journey when noting down your UX strategy. After all, if you only focus on the experience your specific software provides, you'll overlook many other areas that might affect it.
For example, if you have a website — that's a potential touchpoint. As are your social media channels and interactions with contact center employees. So, make sure to consider all the various places through which a user might interact with your company, whether within your software solution or outside of it.
Find out how we Improved Insurance Firm's Contact Center Performance
3. Track
Lastly, you need to determine the metrics you're going to track to evaluate the success of the chosen UX strategy. Here, we like the approach suggested by experts from McKinsey & Company. They recommend picking a "North Star metric" for analyzing the performance of your UX design.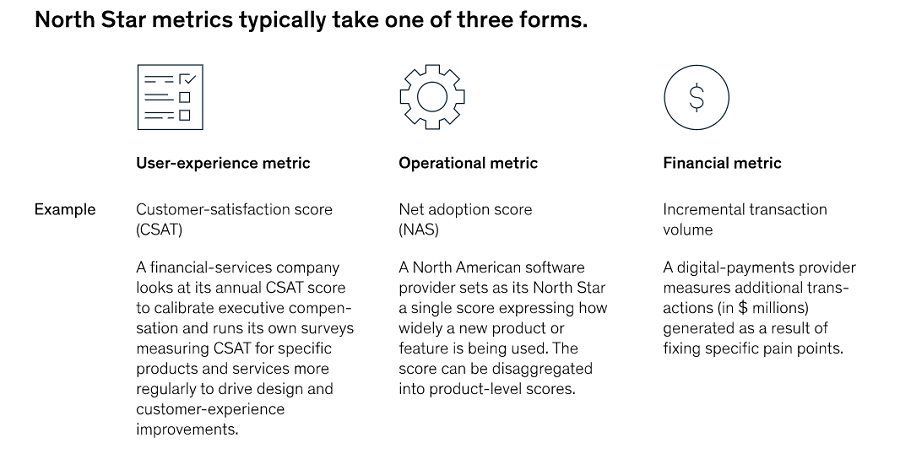 Essentially, this means selecting the most appropriate measurement that effectively captures your business ambitions in the context of UI/UX design strategy. Hence, you might want to focus on either one of the following:
A user-experience metric like customer-satisfaction score
An operational metric like customer retention
A financial measure like revenue growth
Naturally, the metric you choose will depend on the goals you've initially set. Moreover, nothing stops you from monitoring several relevant benchmarks with the help of data analytics.
However, you definitely need to determine one specific KPI that you're working towards. Otherwise, you may try to improve them all, lose sight of what's most important, and end up falling short with all of them.
Find out how Data Science Benefits Enterprises
Tips on Creating a Company-Wide UX Strategy
Now that we've covered the steps of the UX strategy formation process for software projects, it's worth discussing some tips for creating a good company-wide user experience approach. Since, as we've mentioned, an effective UX goes beyond the scope of a single application.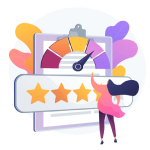 Embrace User-Centricity
If you only focus on revenue-generation and personal gains, it can be easy to lose sight of what actually drives business growth, and that is user-centricity. At the end of the day, if you don't keep your target audience at the forefront, it'll quickly abandon you and turn to someone who better caters to their needs.
Hence, make sure to embrace user-centricity within all areas of your organization. Listen to feedback, implement recommendations, and be willing to adjust to changing behavioral patterns and preferences. That way, no competitor will be able to pry away loyal users from you.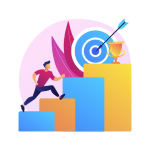 Focus on Entire Customer Journeys
We've already touched on this in the context of project UX strategies, but it's important to reiterate the point. While the user experience of each individual product or software should be excellent in its own right, it must also tie into the overall journey that one might take when interacting with your brand.
Positive impressions aren't formed separately at each user touch point. Instead, they accumulate and form an overall experience that serves as a basis for a person's opinion on your company. Hence, think about the entire journey a user might go through and optimize every step of it.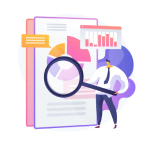 Rely on Analytics to Measure UX Strategy Success
While you might measure your "North Star metric" to evaluate the success of a project's UX strategy, don't forget to also monitor how any changes to the overall user experience affect a business's wellbeing.
In this regard, it's good to embrace analytics that will not only keep track of the needed data but also rely on artificial intelligence and machine learning algorithms to forecast future performance. Thus, helping you prepare for various user experience-related scenarios.
Get Started With Your UX Strategy
As technology proliferates more and more areas of business, a good UX strategy is precisely what will differentiate great software from average ones. So, don't underestimate the importance of crafting a thoroughly researched user experience and taking a user-centric approach across your entire organization.
Of course, it can be hard to get started if you don't have a skilled team in place. That's why, Velvetech is happy to offer various UI/UX design services to clients, including help with strategy development.
So, don't hesitate to reach out if you're looking for experienced consultants and software developers. We'd be happy to guide you through every step of your user experience design journey.
Get the conversation started!
Discover how Velvetech can help your project take off today.