The insurance industry is undergoing a change, there's no doubt about it. Priorities are shifting towards digital initiatives, and the coming years will play a key role in determining who gets ahead.
According to Statista, one of the top digital investment priorities for insurance companies in 2020 was cloud computing and storage. In fact, 59% were looking to increase their spending in this area.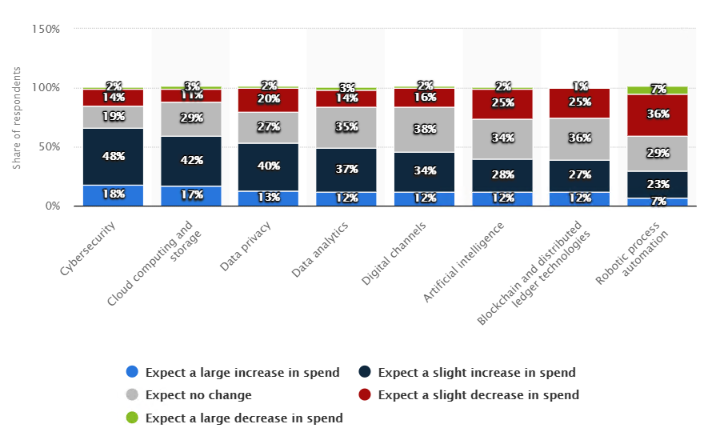 With insurance companies adopting innovative technologies, now isn't the time to postpone investing in digital initiatives and software. To avoid falling behind competitors, you need to be aware of what new solutions are out there and how they can help your company.
Today, we will introduce you to a system that can dramatically improve workflows and overall performance — insurance agency management software (AMS). You'll discover what it actually is, how it can help your business, what difficulties can come up, and whether you should choose an off-the-shelf product or a custom-built one. Let's get started
What is Insurance Agency Management Software?
An insurance agency is an individual or company that has been authorized by a carrier to sell its products in exchange for compensation. Hence, agency management software is what helps insurance firms manage their business. These systems usually combine the capabilities of a CRM and an ERP to ease agents' work with customers and better handle back-office tasks.
In general, an AMS helps track and maintain customer relationships, automate workflows, improve sales and marketing efforts, and boost security.
Discover how a top Chicago-based Insurance Agency Got a Sales Boost with AI
Agency management technology can become the backbone of your insurance business and a true differentiating factor if leveraged properly. Thus, let's take a closer look at the functions of insurance management software so that you fully grasp how it can benefit your company.
Insurance Agency Management Software Functions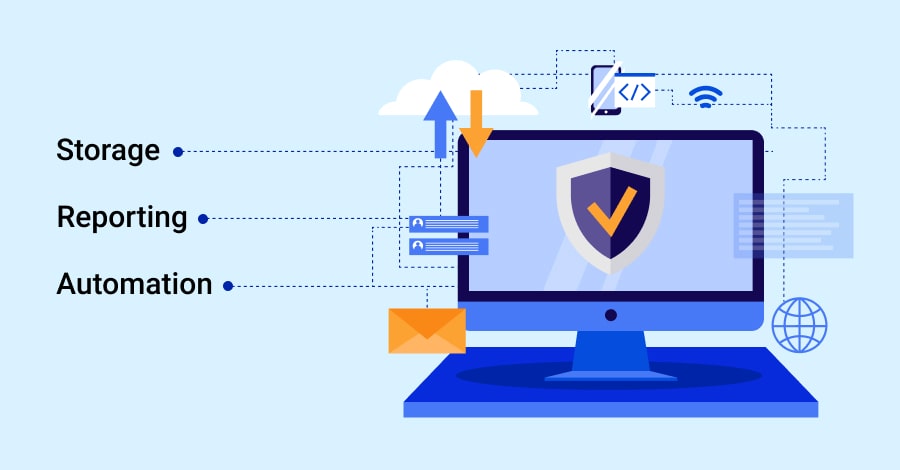 The must-have features of any insurance agency management system are data storage, reporting capabilities, and automation functions. What does each of these comprise? Read on to find out.
Storage
The very first essential function is data storage. Just like any insurance client management software, it needs to have the ability to store the agency's customer information, including all policy-related documents and communication.
Essentially, an insurance management software serves as a single source of all client and corporate data for you and your agents. It helps keep track of policy, claims, quotes, and other documents that are involved in providing your services.
Find out the 7 Essential Features of Insurance Policy Management Software
Reporting
Secondly, an insurance AMS needs to have reporting tools for analyzing sales performance and account statuses. Drawing reports is a frequent task for insurance agents; thus, having a system that enables seamless report generation will be of huge help.
Automation
Finally, streamlining agent-client communication and automating repetitive tasks is another key function that agencies appreciate in insurance management systems.
"Automation could save the North American insurance industry between $5-7 billion."
Whether you need to automate customer interactions or speed up claims management — insurance software can help keep track of everything and react to complaints in real time. Monotonous work quickly tires hardworking agents, so if there's a way to reduce it, why not?
Benefits of Insurance Agency Management Software
Now that you understand insurance agency management software, you're probably interested in leveraging it for your business. However, if that's not the case yet, take a look at the benefits this technology can bring for your company.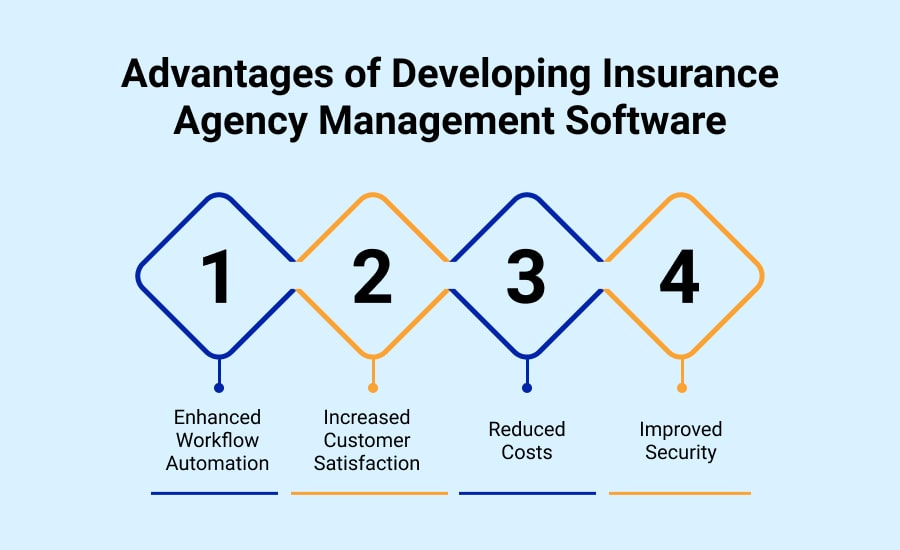 Enhanced Workflow Automation
We've already mentioned that automation is one of the key functions of an insurance agency management software. Hence, it's no surprise that it's also one of the key benefits.
Whenever you need to create reports, email sequences, or notification alerts — you can turn to an AMS. With customizable templates, it lets you quickly generate the necessary documents and spend less time on operational activities. By automatically arranging data, an insurance management system will speed up internal processes and allow you to focus on non-routine tasks.
Increased Customer Satisfaction
As a result of workflow automation and faster processing time, customer service can be significantly improved. Consequently, clients will be more satisfied with the level of care your agency is providing. They will be more likely to stay with you longer and recommend you to their friends.
In short, by consistently delivering speedy customer service with the help of agency management software, you'll impress your insurance leads and existing clients. So, don't overlook this technology if customer care is one of your top priorities.
Reduced Costs
Operational costs, as well as sales and marketing-related expenses, can be reduced with the help of an agency management system for insurance. Consolidating customer information speeds up the delivery of services and reduces the amount of paperwork involved. Thus, workload is decreased and so are the daily costs of operations.
Moreover, insurance agency software systems contribute to the timely identification of errors in policy-related documents. Hence, this also leads to lower costs as you're no longer wasting money on correcting mistakes.
Improved Security
Last but not least, insurance management software can give your agency a significant security boost. Primarily, it is because cloud-based systems encrypt the files stored on their servers. This makes it more challenging for cybercriminals to gain access.
Uncover the Best Practices of Cloud Cost Optimization
Additionally, insurance AMS is only accessible through authorization. Hence, employees can access clients' sensitive details after identifying themselves in the system. As you can imagine, this adds an extra safety layer.
Difficulties with Insurance Agency Management Software
Regardless of how well you approach software building, every new technological undertaking can have some challenges. Of course, it shouldn't stop you from investing in digital innovation, but it's always good to know what to expect. So, we definitely want to cover the things worth keeping in mind before embarking on the software development journey.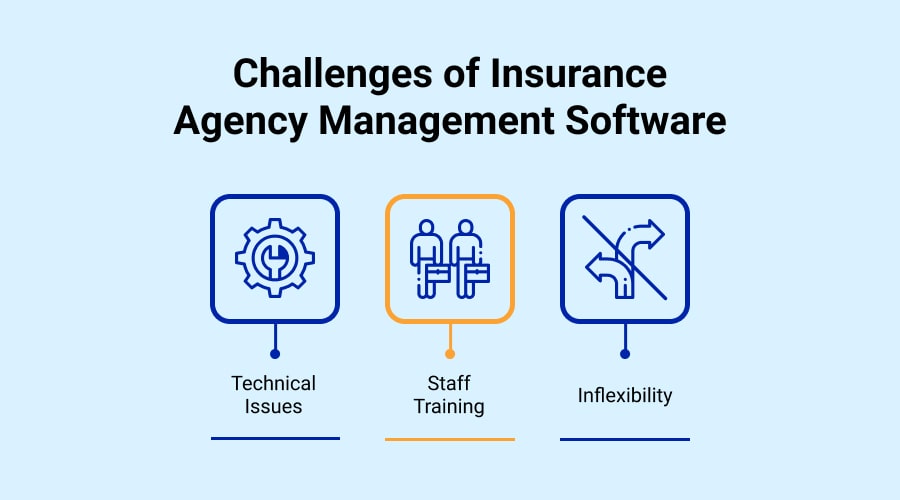 Technical Issues
Technical issues may come as part of the package when integrating new technology. Don't worry; it doesn't mean you'll have to battle errors on every corner, but you still may face some challenges with insurance software development.
Just keep in mind that any bugs that come up during implementation or usage will need fixing. You can't invest in insurance agency management software and then have no budget for fixes and updates. However, as long as you account for these potential mishaps — everything will work out well.
Staff Training
Whenever a new tool is integrated into your staff's workflow, you've got to teach employees to actually use it. Insurance agency software systems tend to come with intuitive interfaces, but it will take some time for your team to grasp their full functionalities.
To speed up the process, you will need to organize training sessions and allow for a bit of trial and error. After all, once your staff gets the hang of things, you'll quickly begin to see the benefits of the solution.
Inflexibility
Inflexibility is only present if you choose to purchase a ready-made tool. The reality is, out-of-the-box software comes with a set number of modules that were created to cater to the masses.
It's very possible that the pre-built solution will have features that you don't need, or on the contrary, will lack the functions you desire. This nuance makes them quite inflexible and may be the reason to consider building a bespoke system for your insurance company.
Explore the 7 Key Benefits of Custom Software Development
Off-the-Shelf vs. Custom Agency Management Systems
Since we've brought up tailored vs. out-of-the-box solutions, it's a good moment to discuss them in more detail.
Off-the-shelf products are pre-made solutions that are commercially available and are created to serve the majority of the players in a specific market. Conversely, bespoke software tools are built to cater to the specific needs and requirements of one company.
To help you decide between the two, let's take a look at the advantages of each.
Advantages of Out-of-the-Box Solutions
The main benefit of ready-made software is that you don't have to wait to get started. Instead, you can dive right in, implement the technology you need and begin seeing results almost immediately. With off-the-shelf solutions, there's no need to spend time on development, as the name suggests — everything is ready to go.
Moreover, if you go with well-known software products, chances are you'll have access to consistent support and upgrades. Of course, they will rarely cater to any specific and unique requests, but you can be sure that someone will always be there to help sort out any issues that may arise.
Lastly, out-of-the-box tools tend to be more budget-friendly and require a lower initial cost commitment because they serve a large number of clients and have varying payment options depending on the features you need.
Advantages of Custom-Built Solutions
There are many reasons to turn to custom software development services, but the primary one is that, with this type of approach, you can get exactly what your company needs. You won't have to overpay for unnecessary features, nor will you lack the functionalities that are essential to your business.
Additionally, custom-built solutions can be created to adhere to all the security requirements that your insurance agency must meet. Whether you are in the auto, health, or home insurance business — a bespoke AMS will be customized to ensure total compliance.
Learn why it's time to invest in Auto Insurance Software Development
Finally, custom tools often end up being more cost-effective in the long run. Primarily because they don't usually have recurring fees like ready-made solutions. Instead, they let you keep control of your spending and develop an insurance AMS step-by-step.
Are You Ready to Develop an Insurance Agency Management System?
As you can see, an AMS can bring a range of benefits to your company. It combines lead and client management capabilities with back-office operations. Thus, helping your agents reduce the amount of time they spend on tedious manual work and improve communication with insurance customers.
So, if you want to begin your insurance management software development journey — we would be happy to help you with it.
Velvetech specializes in custom insurance software development and has a long history of delivering solutions tailored to the unique needs of the insurance industry. Hence, don't hesitate to reach out and get a consultation on what is the next best step for your digital innovation journey. As we have seen today, postponing may no longer be an option.
Get the conversation started!
Discover how Velvetech can help your project take off today.