2020 has been an extraordinary year for most of us, a year like no other for the world and many businesses. Yet, among the disruptions, there were many things worth celebrating.
At Velvetech, we'd like to highlight the most significant moments and achievements this year has brought, allowing us to support our clients, explore new grounds, and master our software development skills.
We're already looking forward to 2021 and we hope that it will bring more growth opportunities to companies across various business domains. Meanwhile, it's the right time to reflect on 2020 — a year of challenge and change.
A Year of Transformation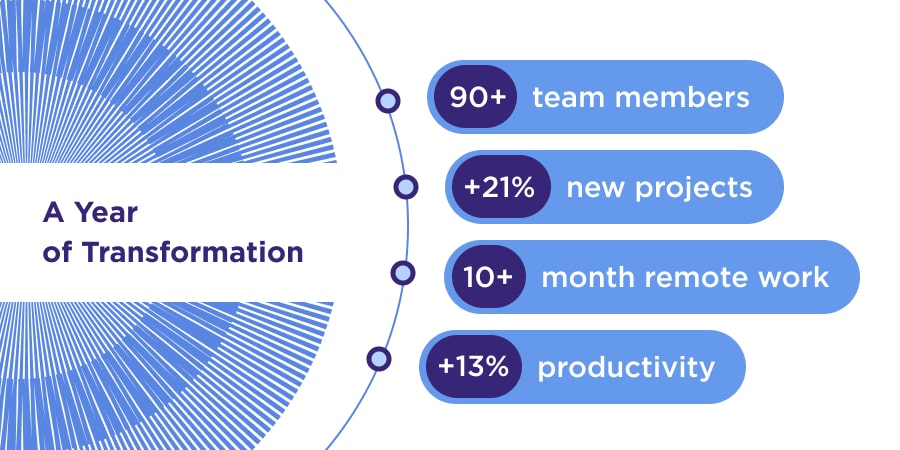 Despite the uncertain time that we encountered this year, Velvetech demonstrated a great aptitude to adjust to new circumstances and keep providing companies with technology solutions. With a major shift to remote work, our team revealed an increase in performance, strong collaboration, and improved efficiency.
Our company is growing as we continue to welcome new employees aboard. In 2020 we extended our hiring pool, offering work opportunities to applicants from diverse locations. A greater presence allows us to facilitate project implementations since we nearly never stop coding and support our clients in their time zones.
In general, this year we had a chance to help more businesses than in 2019. A rising number of delivered projects means that our expertise is constantly expanding.
Apart from a wide range of consulting services, custom enterprise software development, and Contact Center solutions, Velvetech was actively supporting companies with DevOps as a Service. Thus, we proceeded to streamline collaboration between software development and IT operations for our clients.
The Power of the AI for Contact Centers
We're proud to share that our AI-based Contact Center solutions keep drawing attention and providing benefits to many businesses. It often goes hand in hand with the implementation and customization of CRM tools.
In 2020 we released our advanced Contact Center Product Suite for CRM Creatio, making it a perfect solution to set up for inbound and outbound call centers.
AI-Based Contact Center Product Suite
Full-featured Inbound & Outbound call center with AI-based agent scoring and call analytics.
This year we delivered a pile of projects that helped our clients empower management, operations, and front line teams. For example, Velvetch's Call Analytics and Transcription Service boosted our client's call center performance and increased conversion rates. Analyzing each call, the company can identify the best practices that drive sales and propagate them to the entire call center. In other words, we provided the client with a tool that allows them to better understand their customer needs.
Another set of solutions that was popular among our clients was cloud telephony implementation alongside with Call Queues service and Power Dialer. One of the cases, when our product came to help at the right moment, was rescuing the services of our client. Velvetech provisioned them with VELVETEL cloud phone system within one business day when their legacy telephony crashed. Further, it was integrated with CRM Creatio.
Main Focuses of 2020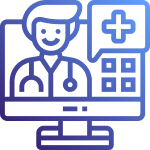 Healthcare
In 2020 we vigorously concentrated our efforts on providing technology solutions for the healthcare sector. This niche is fundamental for us to focus on, so our team continuously advances their skills and follows the innovations in health IT.
As usual, we planned to attend HIMSS this year and almost got to Florida, but unfortunately, it had been canceled. Despite that, we were open to shifting all our planned meetings online and had a great networking experience with medical organizations and healthcare providers.
Most of our new clients in 2020 came from the healthcare field. Among them is a digital health startup, for whom we delivered an advanced monitoring platform and a mobile app to track patient's health data and implement preventative treatment.
Another example, a long-term care solutions provider that asked us to work on their web platform. This platform helps match future residents and providers online to select and book affordable elderly care and community.
"Velvetech is a top-notch agency that I trust for mission-critical healthcare software development. Their approach and execution de-risk your project to improve the likelihood of a successful outcome. The products they deliver are high-quality and production-grade solutions."

— Dan Horowitz,
CTO, Head of Product & Founder, Smylen
On top of that, Velvetech helped a dental marketplace renovate their appointment scheduling platform and integrate it with multiple PMSs to offer patients effortless and flawless service.
Besides that, we supported another dentistry-related company with a custom middleware solution and UI to automate insurance provider analysis and report generation. It streamlined the experience of their customers — dental offices — to make insurance contract transitions smooth and efficient.
Currently, we're working on projects with healthcare organizations to deliver software that will facilitate telemedicine services, insurance verification, continuing medical education, and PMS integrations.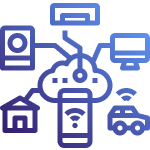 Internet of Things
The Internet of Things has become a mature technology with one-third of companies using IoT solutions in this or that form. Velvetech was inspired by clients across the year to deliver complex projects that included hardware engineering, cloud applications, firmware development, mobile apps, and systems integration.
This year we enriched our portfolio with several cases. One of the most striking examples is the development of IIoT system — a torque sensor and a dedicated mobile app to measure the anchors' installation depth for the construction industry company.
Whether it was a wearable solution to track staff and patients within care environments or sensor technology for tires to collect and track data — we were glad to help companies achieve their goals with the application of IoT.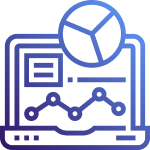 Sales and Marketing Automation
Being one of our core competencies, CRM implementation and its integration with various enterprise systems remain an effective solution for the majority of our clients who want to streamline sales and marketing operations.
This year, Velvetech was endeavoring to help companies from diverse sectors with CRM customization to respond to their business requirements. Every project had unique goals and our team tailored the solutions to the specific needs of each company. However, CRM integration with e-commerce platforms, document management systems, telephony, or accounting software was a prevailing demand from most companies.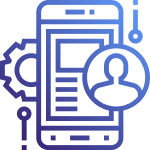 Mobile App Development
We continued supporting our clients with robust mobile app solutions that find their way to deliver value for every business domain. Throughout the year, Velvetech developed a wide variety of consumer and enterprise apps for iOS and Android platforms to address different business challenges.
We were engaged in various mobile projects: built MVPs for ambitious startups, created embedded apps as a part of complex IoT ecosystems, designed and developed full-featured mobile solutions for our clients, and maintained the previously published apps.
"Velvetech LLC was responsive, making themselves available outside traditional hours to support the app launch. Their ability to adapt to scope changes was notable, as was their transparency. They took my feedback and dealt with it quickly, so they were very easy to work with."

— President,
IT technology company
The Success of Our Clients
Helping companies with their IT initiatives, Velvetech provides them with successful project implementation. Sometimes though, we see results bigger than just achieving business goals or addressing challenges. This year, we'd like to highlight a couple of projects that allowed our clients to stand out.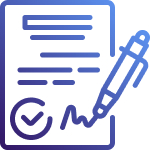 Six-Figure Contract
After the automation of data-related tasks and enhancement in customer service, a US leading dental insurance consultant became the only company in the sector to be process-driven from start to end.
A suite of solutions eliminated manual work, improved customer experience, and enhanced the company's efficiency. The development of custom software equipped our Client with an advantage that led to a six-figure contract with a large Dental Service Organization.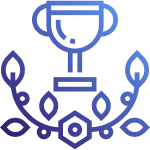 Best New Product Award
Serving the automotive community with custom solutions, our Client has brought innovation to the everyday consumer market. Velvetech helped the company with IoT product development. A smart tire sensor solution enables collecting temperature, pressure, tread depth and tracking session data.
This sensor technology received a best new product award at the SEMA360 online trade event, confirming the status of our Client as the leading tire customization provider.
Our Achievements
Velvetech's team worked hard this year, which resulted in recognition from the top rating and review platforms. We are happy to share the honors with our clients as receiving these awards wouldn't be possible without them.
Top Software Developers
Techreviewer recognized Velvetech as one of the top software development companies in 2020. This award is evidence of our expertise and service high standards. It is also an inspiration for our team to advance their skills.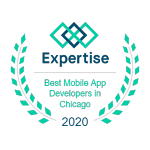 Best Mobile App Developers in Chicago
Velvetech made it to the list of the best mobile app developers in the Chicago area, according to the Expertise.com ranking. We showed mobile app development excellence across multiple selection criteria such as qualification, reputation, experience, professionalism, and availability.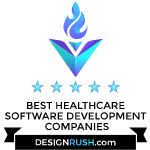 Top Healthcare Development Companies
Profound knowledge of healthcare software solutions and rich experience in project delivery for this niche allowed us to be included in the rating of the top healthcare development companies by DesignRush. For more than 15 years, we are proud to deliver custom eHealth products following industry requirements and regulatory compliance.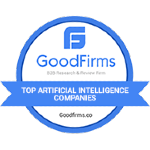 Top AI Companies
Another achievement in 2020 is Velvetech's inclusion in the leading Artificial Intelligence companies list. GoodFirms recommends us as a reliable partner for software development projects empowered with AI and ML technologies. We continue developing this expertise by delivering clients intelligent solutions and providing top-notch AI consulting services.
Acknowledgments to Partners
Velvetech successfully continues to maintain the status of a Microsoft Gold Partner. Having established close working relationships, we're happy to collaborate on app development and cloud services and provide our clients with a wide range of Microsoft products, technologies, and solutions.
In 2020 more members of our development team have passed a certification exam and demonstrated their core capabilities, expertise, and skills to earn gold competency and meet the highest standards of the Microsoft partnership program.
---

Apart from streamlining sales, marketing, and service operations for our clients, Creatio and Velvetech actively participated in online webinars and conferences. Our knowledge-sharing experience empowered our further collaboration to help businesses automate their processes.
---

We're proud to become a HubSpot partner and offer companies access to enterprise tools and functionality to grow their business. HubSpot reinforces our capabilities to provide stellar service to our clients and help them meet evolving sales, marketing, and support needs.
Networking Experience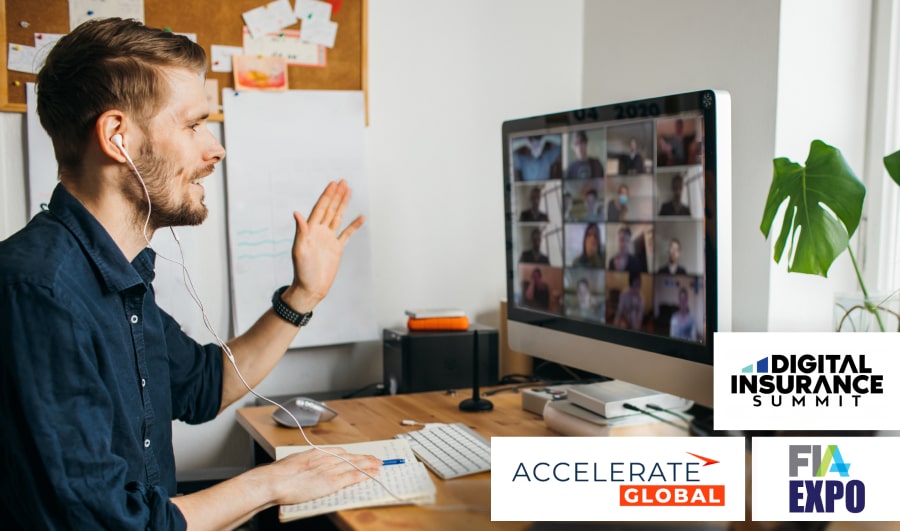 2020 definitely made everyone adjust their plans. It was usual and valuable practice for Velvetech to take part in various networking events throughout previous years. Obviously, some of them were canceled this time. Yet, we're thankful that the rest of them were held online and offered opportunities to share experience and accumulate knowledge.
Velvetech was happy to join such industry-specific networking events as Digital Insurance Summit and FIA Expo. They enabled us to stay up-to-date with technology trends and shifts in insurance and financial market dynamics.
Another series of business activities were centered around sales and marketing software solutions. This year we were a platinum sponsor of the ACCELERATE Global conference and actively contributed to online webinars with our partner Creatio. Our expertise allowed us to drive discussions around low-code and AI technologies to help companies improve multichannel customer engagement and close more deals.
ON-DEMAND WEBINAR
Gaining Control of Customer Engagements
What if every customer could deal with your single most effective sales or service person?
Looking Forward to Seeing You in 2021
Thinking back to 2020 is an important step to get prepared for the upcoming year. Velvetech is already making big plans for 2021 and hoping to achieve even more meaningful results. We're excited to collaborate with you on any of your IT initiatives!
Happy Holiday Season to you and your families!
Get the conversation started!
Discover how Velvetech can help your project take off today.