Thanks to the ever-increasing advances in modern technology, almost all industries have been disrupted, and the financial services sector is no exception.
In fact, the global fintech market is projected to reach $190 billion by 2026, growing at 13.7% CAGR. With such promising forecasts, it's clear that competition will only become stiffer, and companies that differentiate will be the ones to succeed. One such point of differentiation can be achieved through fintech app development.
The pandemic has only boosted the shift towards mobile devices, so it's more important than ever to know how to build a fintech app that will be appreciated by your end users. Thus, in today's post, we will dive into the subject and discuss some of the main types of fintech apps, their key features, emerging trends, and the steps to building a truly great solution.
Types of FinTech Apps

Depending on your business area, there are different types of financial apps that you might be interested in developing. Today, we will look at the eight most typical ones.
Mobile Banking Apps
One of the most common types of financial apps are, of course, mobile banking solutions. They offer a convenient way for users to manage their accounts, transfer money, carry out payments, and take care of other banking-related activities without having to go into an office.
Yet, one of the main challenges with these applications is making them user-friendly and intuitive. So, if you're looking to build a digital banking app — don't forget to prioritize the customer experience during development. That way, you'll be able to stand out and deliver quality services to your users, thus encouraging them to stay with your company.
Find out How to Build a High-Quality Mobile App
Lending Apps
Lending or loan applications allow for effective management of consumer finance, where borrowers can quickly access funds and lenders, or investors, can get a healthy return. The development of such fintech solutions helps ease the processing of loan requests and control financial transactions.
Lending apps usually include such features as a credit score checker, loan application form, transaction records, payment processing, and others. AI-based tools and analytics can also be incorporated to implement KYC procedures or simply enhance user experience.
Investment Apps
Investment apps are, as the name suggests, those that help users manage their investments while offering analytics and various instruments for controlling the entire portfolio.
At times, an investment app can even serve as a digital financial advisor by recommending stocks to purchase for optimizing the portfolio and minimizing risks.
Discover how Velvetech Helped Upgrade a Trading Platform
Insurance Apps
Mobile insurance solutions can be split into two categories — employee-facing apps and customer-facing ones.
In the case of the former, they work to help insurers, agents, and brokers to optimize their workflows, onboard new personnel, or boost customer relationship management. In the case of the latter, insurance apps can serve as a central place for policy management, claim settlement, and payment processing.
Learn how we Helped an Insurance Firm Secure a Leading Position on the Market
Payment Processing Apps
Payment processing apps are built to simplify money transfers and transactions by facilitating quick and secure cashless payments.
It's worth noting that this is a highly promising area to get involved in if you're looking to develop a mobile product. Primarily because the digital payments segment is the largest one in fintech and is projected to reach $19.89 trillion by 2026 in terms of transaction value.
Cryptocurrency Apps
Cryptocurrency applications are very similar to other fintech mobile solutions we've discussed above, except for one thing. They all work with cryptocurrencies.
Thus, these tools can allow users to buy, store, trade, or transfer digital currencies like Bitcoin, Ether, and many others that are dominating the headlines today.
Discover how Velvetech Helped Build a Crypto-Mining Browser
Business Optimization Apps
Lastly, business optimization apps are those that are built for internal use and are employee-facing.
These solutions can include accounting apps, contact center software, document management tools, or CRM systems that are accessible from your personnel's mobile phones. The sky is really the limit when it comes to building fintech apps that optimize business operations.
Find out how a FinTech Firm Improved Customer Service by Implementing a CRM
RegTech Apps
The fintech industry is subject to a wide variety of regulations, so it's no surprise that app development for this sector comes up with new tools that help ensure compliance with laws, policies, and standards.
Regtech apps bridge the gap between financial institutions and regulators and help businesses get a better reputation. In particular, these solutions enhance regulatory reporting, streamline risk and identity management, ensure compliance, and enhance transaction monitoring.
From KYC and fraud prevention to regulatory change discovery, the development of such a mobile application for your fintech operations will likely save your business time and money.
ON-DEMAND WEBINAR
Choosing a Winning App Development Strategy
Watch our webinar to uncover effective mobile development approaches and launch your app.
5 Key Features of a FinTech App

Now that you know the main types of financial apps that are out there and may have identified the one you want to develop, it's time to think about the key features you'll need to include.
Of course, depending on the nature of your business and the fintech app you're building, the features will vary. However, there are five main ones that most fintech solutions will likely need.
API Integrations
The majority of fintech applications need to be linked to different apps and portals in order to function properly. To do so, API integrations are a must in your solution.
In fintech apps, APIs enable data access between the parties that are involved in transactions. For example, banks, insurance firms, payment gateway providers, websites, and consumers. So, if you want to deliver a smooth user experience, API integrations are essential for your app.
Push Notifications
Next, when you set out to create a fintech app, you can't underestimate the importance of timely communication and messaging. They are the cornerstones of a satisfactory user experience and can be facilitated with the help of push notifications.
When dealing with finances, customers want to be updated on everything in due time. Did the payment go through? Is there a problem with a transfer? These and many other questions may pop up while they are using your application. So, push notifications are crucial to keep clients informed and avoid any unpleasant situations.
Intuitive Dashboards
We've mentioned it several times already, but it's worth emphasizing that a seamless user experience is a must in a fintech app. Dealing with finances can be stressful and you don't want your customers to become frustrated because of a poor interface.
Thus, developing intuitive dashboards to display spending, transaction history, and stock charts is a great idea if you want users to easily find the information they seek. Moreover, by prioritizing their needs in this way, you'll leave a lasting positive impression and increase the likelihood of customers staying on your app for longer.
Chatbots
In the fast-paced world we live in, providing 24/7 customer support and service is a must. Nobody is willing to wait hours on end for a problem to be resolved. Especially when it comes to finances.
So, don't forget to incorporate intelligent chatbots into your fintech application. They'll automate the process of answering simple customer inquiries, thus helping your support team stay on top of complex and urgent issues.
Security Measures
Lastly, no fintech app is complete without sufficient security measures in place. Not only must your solution comply with regulations for protecting users' financial information from data leaks, but also have strong security features to prevent cyber attacks.
Thus, consider implementing multi-factor authentication, data encryption, biometrics, or even blockchain technology into your application to deliver the highest level of safety to your customers.
Financial Mobile App Development Technology Trends

Before moving on to the actual steps you'll need to take to create a fintech app, it's important to discuss some emerging technology trends that are affecting the market and can play an invaluable role in app development for fintech operations.
AI and ML
Artificial intelligence and machine learning play a crucial role in fintech. In fact, 81% of C-suite financial services professionals perceive AI as a competitive advantage for the success of their company.
Currently, these technologies are already being used to streamline data collection, improve analytics, create personalized products, boost security levels, and automate various repetitive tasks. So, if you want to differentiate, consider implementing AI into your mobile app and creating a tool that will be truly appreciated by the market.
Learn more about Intelligence Tools for Financial Institutions
Blockchain
Blockchain in finance is an increasingly growing trend that is set to revolutionize the industry. Thanks to this distributed, digital ledger technology, your fintech app can obtain a highly secure way of storing data. Thus, keeping users calm about the safety of their personal information.
Regardless of which finance area you operate in, banking, insurance, digital payments, or others, blockchain development is an area worth looking into because chances are — your competitors are already doing it and there's simply too much to gain.
Big Data
Financial institutions generate enormous amounts of structured and unstructured data. Oftentimes, this digital information is highly under-utilized.
By embracing big data and using it to forecast consumer behavior, develop strategies, or perform risk evaluations, finance organizations can make informed decisions and significantly reduce operational costs.
As you can imagine, your fintech app will also generate large volumes of data. Thus, to make the most of it, think about turning to technologies like data science or data analytics that can help you better understand users, deliver personalized experiences, and generally become more informed about your business performance.
Steps to Create a Quality FinTech App

Building a fintech app is not the easiest endeavor, but if you have a skilled mobile app development team the process should be quite smooth. So, let's take a look at some of the key steps you'll need to take in order to create a high-quality fintech app.
1. Determine Your Strategy
First of all, you've got to determine the strategy for your application. Think about the market you're catering to, your target customers and their needs.
How do you plan to deliver what your clients seek? Who are your competitors? How will you differentiate? All these questions should be addressed at the initial stage of your development process to ensure the final solution's success.
2. Ensure Regulatory Compliance
Once you've got your strategy in place, it's time to think about regulatory compliance. You're operating in the financial services industry and thus must comply with various legal requirements depending on where you operate.
If you rush through this step or postpone it for later on in the process, you risk opening yourself up to legal liabilities and penalties. Not to mention, lack of compliance with regulations might make potential customers feel unsafe and turn to your competitors instead.
3. Focus on UI/UX Design
The user experience of any mobile application is of utmost importance, but especially that of a fintech one. Thus, it's worth paying particular attention to your app's workflows and wireframes during development.
After all, you want users to get the best experience and that can only be done with intuitive, engaging, and user-friendly design that considers the needs of the user at every step.
ON-DEMAND WEBINAR
User-Driven Approach
Watch our webinar and learn the top ways of reducing poor user satisfaction, low adoption rates, and decreased loyalty.
4. Develop Your FinTech App
Once your strategy, compliance, and design are in order, it's time to start building the fintech app. At this stage of the process, your development team will work on transforming everything you've laid out during the design stage into a real, well-functioning application.
Depending on the development approach you choose — native for iOS, Android, or cross-platform — you'll need developers with relevant skills and experience.
However, it's not always easy to find seasoned mobile developers, especially those who also have expertise in building fintech solutions. Thus, we advise turning to a vetted mobile development company that will likely be able to find the specialists you seek in due time.
Learn more about Choosing the Right Mobile App Development Company
5. Test the Application
Once development is done, it's time to start testing your new fintech app. At this point, you want to ensure the solution is stable, well-performing, and doesn't contain any bugs.
Thus, your development team will likely carry out the following five testing methods:
Functionality
Performance
Security
Platform and device
Extended review
When done correctly, this stage of the process will leave you feeling confident about the quality of your application.
6. Deploy Your Solution
Now that your application is ready to be deployed, you'll either have to submit it to Apple's App Store, Google's Play Store, or go for private distribution.
Once your solution passes the appropriate checks and is approved — you can ramp up your marketing efforts to attract and engage new users.
Learn more about Driving Mobile App Engagement
7. Maintain App Performance
Lastly, you've got to remember that work doesn't end once your fintech app is live. In fact, it's probably just beginning. After the launch, you'll have to keep track of any crashes, bugs, and overall app performance in order to continue perfecting your solution with time.
Moreover, don't forget that operating systems release quite frequent updates and changes to their guidelines. So, you'll need to monitor all these aspects in order to ensure your application stays functional.
Get more insights on the Mobile App Development Process
How Much Does It Cost to Make a FinTech App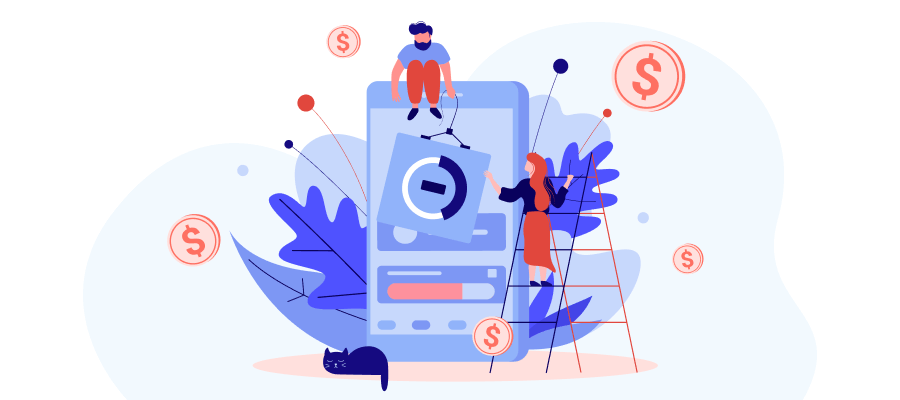 Now that you know how to develop a fintech app, you're probably asking yourself "How much does it cost to build a fintech app?" We hear you. Unfortunately, we can't give a straight answer.
The truth is, the cost of a fintech application has an extensive range and is affected by a variety of factors, including:
Application complexity
Technologies used
Development approach
Team size
Engagement model
Marketing strategies
Project timeline
With so many factors coming into play when estimating mobile app development costs, it's hard to provide a concrete answer. Thus, it's best to reach out to the experts and ask for their approximations based on your needs.
ON-DEMAND WEBINAR
Project Estimates
Watch our webinar to learn about the practical ways to evaluate your software project estimates.
Ready to Develop a FinTech App?
As you can see, developing a mobile application for a financial field comes with a lot of considerations. However, this shouldn't deter you from pursuing the endeavor. After all, the fintech market is growing and is filled with potential that you don't want to miss out on.
So, if you've got an idea of a mobile fintech application, don't hesitate to reach out to Velvetech's team. Our experts have spent years turning innovative ideas into real-life, disruptive products that deliver impeccable user experience, adhere to the most stringent regulations, and contribute positively to the bottom line of clients.
Get the conversation started!
Discover how Velvetech can help your project take off today.